'The X Factor' Finds Its Season 3 Winner: Alex & Sierra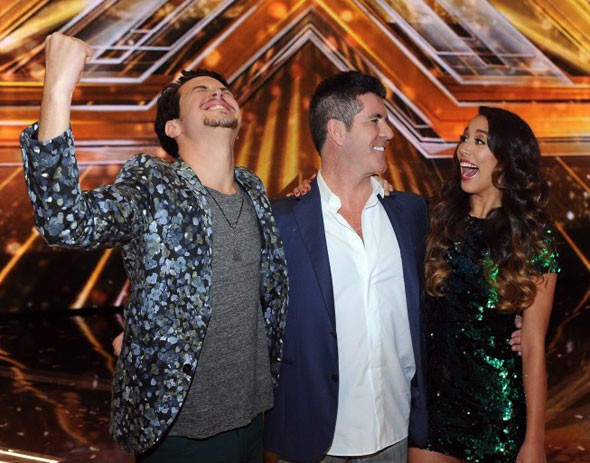 'The X Factor' ended one of the worst seasons in singing competition show history with an appropriately awful finale.
Time was, these finales were something of a party. An event that rivaled trophy shows like The Grammys and Oscars with a cavalcade of big guests and enough excitement and tension to actually fill the entire two hours. Now these are shows that Kesha can't even make the time to attend.
Look at the lineup last night. One Direction and Leona Lewis are locks because they were created by this show and have to pay their tributes so let's not count them as gets. Beyond that it's Pitbull literally repeating the words a recording of Kesha was singing and Lea Michele proving that she doesn't have much of a future in the recording industry with a song so bad it must've come out of failed auditions.
That's about it. That's where we are with 'The X Factor'. The show that Simon promised would be the biggest thing in the history of American television has come down to a couple of half-rate performances and non-funny retrospectives that seem like rejects from AT&T commercials.
Of course, last night was really about crowning this season's champion and, for the first time all year, I finally nailed a prediction as Alex and Sierra won 'The X Factor'. More on them later.
But they aren't the only winners from last night. Let's check out this season in X Factor Awards:
Best Judge:
This is almost like awarding the best-smelling pigpen as the judges were almost entirely useless this year, but Kelly Rowland's tolerable sound bytes showed she belonged on the judges' panel after plenty of time doing it abroad. She's a welcome replacement for LA Reid in the sensible judges' chair. Now if only we could get him back...
Worst Judge:
The easiest award of the evening to give out. Paulina Rubio was a hot mess of hair and mistake as soon as she took the mic in the first episode. It's kind of startling that they didn't replace her early on. After all, Cheryl Cole got the quick hook in season one when nobody could understand her and she was practically John Facenda compared to the incoherent Rubio's ramblings. According to her, everyone was the perfect artist and so beautiful. Those are really high compliments and kind of crazy that she gave them out every single time. If this show comes back next season, it will be surprising to see Paulina join it.
At least she was better than Scherzinger.
Best Change:
After human hat rack Steve Jones created a charisma vacuum in season one and Khloe Kardashian did the same for intelligence in season two, it was nice to see the affable Mario Lopez alone on the hosting mic this season. He's got the perfect temperament for this show and managed to know exactly how much of a presence he should have each week. It's almost like you didn't know he was there at times which is exactly what a host on these shows should do.
Worst Change:
Remember the four chair challenge? Neither do I, but I looked at some old footage to remind myself that for some reason all the contestants came out and sang for the honor of sitting on a seat. With the first four guaranteed a slot, it was basically a wasted half-hour followed by some time-wasting cuts and a final lineup that the producers would eventually change.
In a word, pointless.
Worst of all, this came at the expense of the excellent judges' homes round that normally produced great performances and let us see just how rich Simon Cowell is. Let's bring that back.
Best Finalist:
Tough to choose as there wasn't really an exceptional act to make the finals. There was nobody who gave can't-miss performances every week that compelled viewers to tune in. Maybe one of the reasons this show just can't take off.
If pressed, I'll say Lillie McCloud was the best of this lackluster bunch. She gave the best couple performances of the year and certainly had the best voice. Though it doesn't bode well for your show when a grandmother is the best thing you've got.
Worst Finalist:
They win twice tonight! Yes, Alex and Sierra, my most hated of all finalists was truly the worst this season. Yes, they gave some stunning performance by the end, but that doesn't undo weeks of ridiculous annoyance that saw them just too-cute hipstering all over stage with 3 minutes of dreck after 3 minutes of dreck. Congrats to them for winning, but they'll always be most remember for this award in my mind.
That's it for this season. See you in a few weeks for 'American Idol'!