'The X Factor' Final Five Recap: It's Melanie And Everybody Else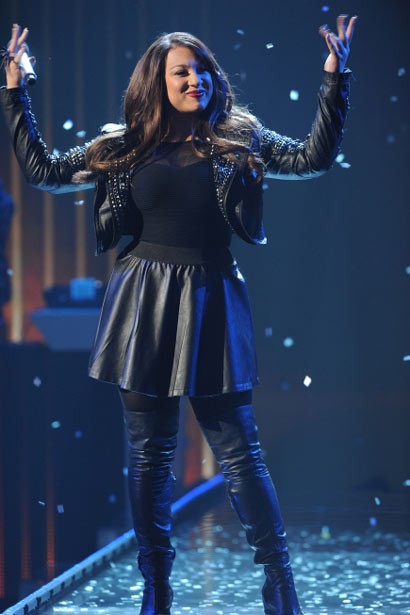 In honor of 'The X Factor' truncating all the contestants' performance in order to cram all ten of them into 90 minutes so there's enough time for 'I Hate My Teenage Daughter', I'm going to truncate this recap's intro.
See? It's already over! Let's get on with it.
Melanie Amaro's First Performance: "Someone Like You" by Adele
LA Reid Said: It was really good.
Nicole Said: You looked and sounded like the rock star diva you are.
Paula Said: It was too short. That's my only complaint.
Simon Said: It wasn't karaoke, it was doing something different with a track.
The Verdict:
I guess this was Simon's attempt to turn Melanie into a disco queen? Is he aware this trend ended about three dozen years ago?
Costuming and arrangement notwithstanding, this was a good performance from Melanie. She showed she can deliver something upbeat and doesn't need to reach deep for the crazy runs and blowaway notes to give a good performance. This was more of a radio-ready pop vocal and she did just fine.
Not her best, but still very good.
Grade: B
Melanie Amaro's Second Performance: "When You Believe" by Mariah Carey and Whitney Houston
LA Reid Said: Safe but great.
Nicole Said: You gave me goose bumps all over.
Paula Said: This worked. It was beautiful.
Simon Said: That was great.
The Verdict:
Just a stone cold diva performance. Huge voice. Huge runs. Perfect arrangement. Big-time command of the stage. It was just all there.
Her vocal was every bit the equal of the original artists. She's just a better singer than everybody else.
Plus, she capped it with a huge diva move by cutting off the judges to pontificate for about 45 seconds. Diva all the way.
Grade: A-
Prediction: She was clearly the best tonight, so I think she'll skate through.