'The X Factor' Final Auditions Night : Singers Next Head To Boot Camp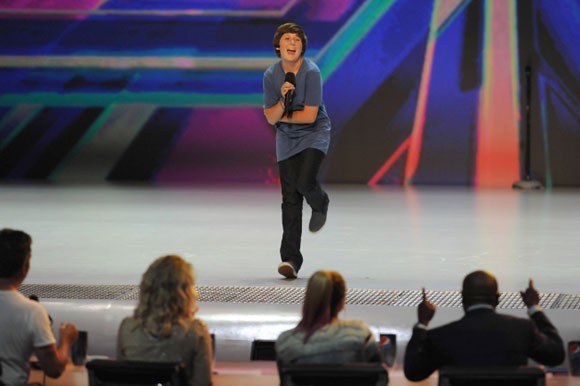 The auditions on "The X Factor" have reached the final night but not before the final episode featured some surprises.
The first singer to audition was missing backstage, found, very ill, and required medical help before taking the stage to perform "Sexy and I Know it".  In a performance that Simon called age inappropriate, Trevor Moran rocked the house.  Noting that Trevor was no longer dehydrated Simon said that Trevor's performance would be remembered.  The girls said Trevor was fun to watch and LA thought Trevor owned the stage.  Trevor earned four yeses.
Owen dedicated his performance to his girlfriend in Buffalo and proved that he could rap and sing in a performance that didn't wow Britney but earned him three yeses.
In a shocking surprise Freddie Combs has what LA called a heavenly performance when he sang "Wind Beneath My Wings" and dedicated to his wife.  After bringing the audience to their feet, Simon made deal with Freddie to sing that song on his feet – Freddie weighs over 500 pounds and uses a wheelchair.  Freddie agreed.  LA added that if Freddie stood to sing he would stand with him.  Freddie got four yeses for his performance.
Bad auditions, numerous rejections, and a profanity filled tantrum that ended with spitting at the camera while barely 16 year old Lauren Jauregui belted out a vocally mature rendition of "If I Ain't Got You" that surprised the judges and had LA calling it perfect.  Lauren got four yeses from the judges.
With the audition of 12 year old Jordan performing a song that Simon hates – "Tomorrow" from "Annie" – and three yeses the season two audition were over. 
Next week the singers who were successful will face the tortuous boot camp and face more eliminations before the final acts for the live shows are chosen.