'The X Factor' - Auditions Continue in Week Two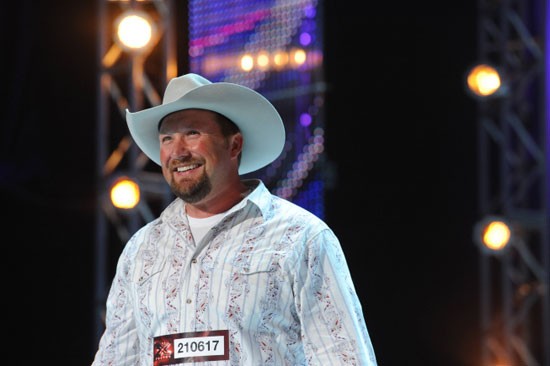 "The X Factor" continued the auditions on week two of its second season.  Despite lower ratings in the first week, the show continued airing numerous on street and backstage clips and only 10 full audition performances. 
Beginning with Kansas City, there was judging shake up as Simon was not feeling well and called in his friend Louis Walsh.  Walsh is also a judge on the British edition of the show.
The first to audition was Rizzlo Jones who is a freestyle rapper.  Not having a prepared song, Rizzlo asked for a subject and created a rap on the spot.  LA liked the flow and admired the bravery; adding it was really good.  Louis said remember the name Rizzlo Jones; adding that he looked like a pop star.  Britney said Rizzlo was like a young Vanilla Ice baby.  Demi was surprised and impressed.  Rizzlo got four yeses for his performance.
Cece chose "Unchained Melody" for her audition but was stopped early and LA asked her to sing another song.  After singing the Christina Aguilera song "No Other Man" the judges said she had ambition and talent.  The judges gave Cece four yeses for her performance.
During a break the girls serenaded LA with Happy Birthday and a birthday cake.
Vino said that he performed for the troops gave a performance that LA said had something unique.  Louis really like the performance; adding there was something very interesting.  Britney was inspired and Demi hear something she said she had not yet heard.  Vino got four yeses for his performance.
And then there was Deangelo…
He annoyed the judges before he even began his song – one by Chris Brown.  Instead of stopping the audition, the judges walked out but Deangelo kept going.  Once he had finished, Deangelo took the microphone with him.  He was arrested.
Tate Stevens brought the house down with his performance of "Anything Goes".  Demi loved his voice.  Louis called Tate an amazing authentic country voice; adding that they had found themselves a country star.  Britney called the performance amazing; adding Tate was her favourite so far.  LA said Tate was the best thing they had seen in Kansas City and a true country star.  Tate earned himself four yeses from the judges.
Back in San Francisco the five man boy band known as Citizen gave a performance of "Don't Let Go" to screaming girls.  LA said it was a great song choice with a great arrangement.  Britney loved it and said the guys totally rocked.  Demi loved the harmonies and thought the guys had great voices.  Simon didn't get it calling the guys 10 years out of date.  The guys got three yeses for their performance.
After several quick video clips of bad auditions and Simon's reactions 13 year old Diamond took the stage and after a prompt from Simon to please not sing an Adele song gave a performance of "It's a Man's World" that had the crowd cheering with a standing ovation.  LA said her mom got it right, you are a diamond.  Demi said Diamond grabbed them.  Britney called her amazing; adding that Diamond brought it.  Simon said that Diamond sang "It's a Man's World" but proved it wasn't; adding the performance was incredible and she blew the roof off.  Diamond got four yeses for her performance.
In Austin Simon had a bit of trouble getting Ally to stop singing but once he did the judges all sang her praises.  Demi said she was blown away and Britney felt Ally should be on Broadway.  Simon thought they were looking at a future star.  Ally got four yeses for her audition.
In a series of clips Brandon, Normani, the sister act Sister C, and the duo of Jeremiah and Josh all earned yeses from the judges.
Panda performed "Bring it on Home" in a performance that brought the audience to their feet.  LA said it was a perfect song choice and moved the room.  Demi said Panda was soulful and Britney was entertained.  Simon said that Panda sounded like a legend.  After getting her four yeses and going backstage, Panda needed medical help and was taken to the hospital.
The final performance was from San Antonio's Jessica.  After performing "Nobody Knows" by Pink Jessica got a standing ovation.  LA called her something special; Britney and Demi said she was amazing.  In typical Simon fashion he said, "I didn't like it…I loved it."  Jessica got four yeses for her performance.  After Jessica had left the stage Simon said she was like a young Pink.