'The X Factor': Auditions Continue In Providence, Rhode Island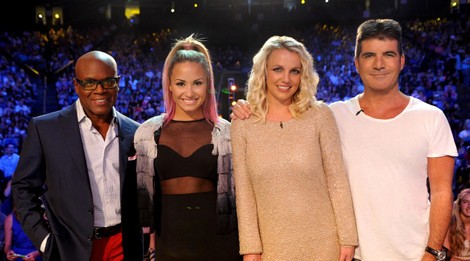 After wasting 20 minutes on backstage chatter and bad auditions it was beginning to look like Providence, Rhode Island was a bust...until 15 year old Dinah blew the judges away with her performance of "If I Was a Boy".  LA said that Dinah took the song to places even Beyonce didn't take it; adding that the performance was unbelievable and predicted she would be in the finals.  Britney said Dinah made her day.  Demi said Dinah gave her the chills; adding that she was looking forward to buying Dinah's music.  Simon said it was why they came to Providence.  Dinah got four yeses.
In season one Aaron auditioned as a solo artists but was placed in a group that called themselves Intensity.  This year Aaron came back to prove he could make it as a solo artist.  He auditioned singing an original song – "Count on Me".  LA said he liked Aaron last year and liked him even more this year.  LA said that Aaron embodied the X Factor and gave a flawless performance.  Britney called Aaron a true star.  Demi said Aaron had a really great voice and said he had the X Factor.  Simon called it a great audition.  Aaron got four yeses for his performance.
Natalie, Nick, Beatrice, and One4Five also earned themselves yeses for their performances.
But the good news didn't continue when Ching Li attempted to perform the Celine Dion song from the "Titanic".  Simon said that if they remade the movie, she could play the role of the iceberg.
Back in Greensboro, North Carolina where 16 year old Austin got as much attention for his hair style as he did his singing.  Britney said Austin had an amazing voice and was the whole package.   Demi called Austin something special who had a great voice.   LA said that he had seen kids like Austin 25 times.  Simon wanted to see more; saying that Austin needed vocal lesions.  But despite Simon's remarks the judges gave Austin four yeses.
Rapper Nick Young also got himself four yeses for his rendition of "Ice Ice Baby".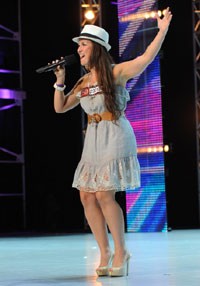 The duo and engaged couple Jamie auditioned their original song "Will You Be My Baby".  Simon said that the duo might be ok for a cruise ship but they were corny, outdated, and too cabaret.  The duo earned themselves four no's for their audition.
David Correy drove from Maryland to make the audition in Greensboro.  When asked by the judges why he was something special; David answered that he was adopted and by singing he felt a connection with his birth mother.  Britney said David was great and had an amazing stage presence.  LA called David something charming; adding his upper register was powerful.  Simon said that he really like David; adding that he was very good.  The judges gave David four yeses for his performance.
Back in San Francisco a little surprise awaited the judges when 19 year old Sophie came out on stage.  Demi recognized the singer as "Nick's sister"; she went on to explain that Sophie is the daughter of rocker and KISS member Gene Simmons.  Demi said that Sophie needed a little control Sophie could be really great and something special.  LA said that he didn't get any chill bumps.  Britney said that Sophie had a special voice.  Simon liked Sophie's voice and pointed out that she made the song her own.  Sophie got three yeses with LA giving her a no.
While the judges agreed that Tara Simon over sang her performance and was theatrical; they also agreed that she had talent.  Tara got herself four yeses.  Later Simon called Tara a drama queen.
Saving the best for last, father of five Daryl Black performed "Stereo Hearts" by the Gym Class Heroes.  Demi said Daryl had an amazing voice.  LA called it the golden voice.  Britney said Daryl had an amazing stage presence.  Simon agreed with his fellow judges and compared Daryl to Nat King Cole.  Daryl got four yeses for his performance.