The Wizarding World Of Harry Potter - Diagon Alley To Open July 8 In Orlando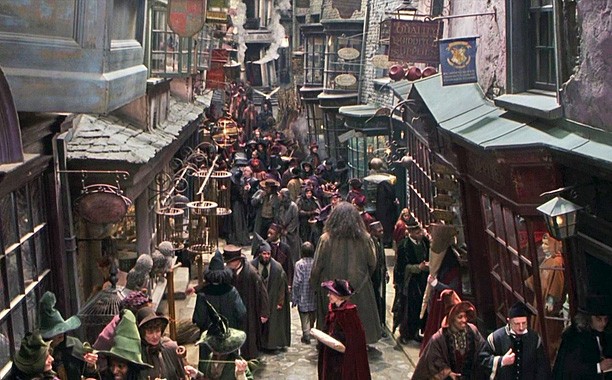 "Can you feel the magic in the air?" said Thierry Coup, the senior vice president of Universal Creative at Universal Studios Florida in Orlando this morning. He was speaking, of course, of the new attraction at The Wizarding World of Harry Potter - Diagon Alley.
"Today we are reinventing the theme park experience again," he told a crowd of journalists at the Blue Man Group Theater.
Besides Hogwarts, Diagon Alley is one of the iconic landmarks in the massively popular J.K. Rowling books. It's the first place that Harry Potter visits in the wizarding world, where he sees the Leaky Cauldron and gets his first wand.
"Diagon Alley offers everything the fan can expect and more," Coup explained. "It is truly the most spectacular theme park in the world."
The attraction includes a family thrill ride called "Escape From Gringotts," which features giant trolls, a fire breathing dragon, and He Who Shall Not Be Named.
Stars from the franchise, including Evanna Lynch (Luna Lovegood), James & Oliver Phelps (Fred and George Weasley) and Matthew Lewis (Neville Longbottom) were on hand to announce the exciting premiere date.
Tune in as Starpulse gets an exclusive sneak peek of Diagon Alley over the next couple of days (including tonight's red carpet extravaganza!)