The Winners (Rick!) And Losers Of 'Top Chef Masters'

A clash of the titans took place in the finale of "
Top Chef Masters
," and the incomparable Rick Bayless was left standing atop the Mount Olympus of cooking. Although it wasn't a surprise to see Rick win, it was stunning to see Hubert Keller finish in third place behind Michael Chiarello.
I can't help but think that classical French cooking has trouble holding up against foods that can be considered more "comfortable." There's no doubt French cooking is much more technical than anything else, but it seems as though Mexican and Italian, for example, are much more desirable to diners. If asked to rank my interest in the three cooking styles, I would do the exact same thing as the judges: 1) Mexican, 2) Italian, 3) French.
While it's great that Hubert is such a master of French cuisine, foodies might be getting sick of seeing the same old style. Rick presents us with gourmet Mexican food - we're not talking about "Mexican-infused" like Bobby Flay - that is steeped in tradition and decades of hands-on research. There have been many pioneers in French cooking, but Rick is a pioneer in something different - a style that's new and exotic.
Maybe classical Mexican food is the new trend. For that, Rick Bayless is the big winner of "TCM."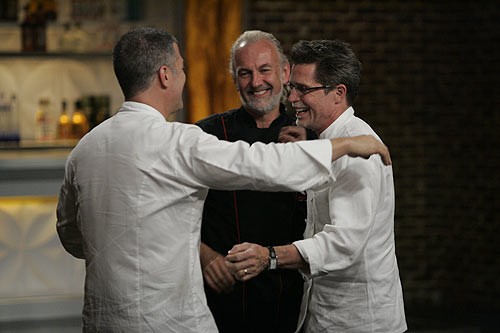 Pictured: (l-r) Michael Chiarello, Hubert Keller, Rick Bayless © Bravo Photo: Kelsey McNeal
Here are the rest of the winners and losers from the first season of "TCM"...
WINNERS
Jay Rayner, James Oseland, Gael Greene: The three judges stepped in and did a tremendous job, which set the tone from day one on "TCM." Their credentials and clear, concise opinions instantly gave "TCM" the credibility it was looking for.
The Quickfire Challenge: The buildup for each and every Quickfire has grown extraordinarily as the "Top Chef" franchise continues its dominance in the world of television cooking. Quickfires are routinely the most entertaining portion of the show.
Black Chef Jackets: If you aren't sporting a black chef jacket, you're just not one of the cool kids in the kitchen.
Food Presentation: This has almost become as important as the food itself. Your plate had better look damn good or else the judges won't even take you seriously.
Tom Colicchio: Every time he came on the show, I didn't want to see him leave. He left his audience wanting more.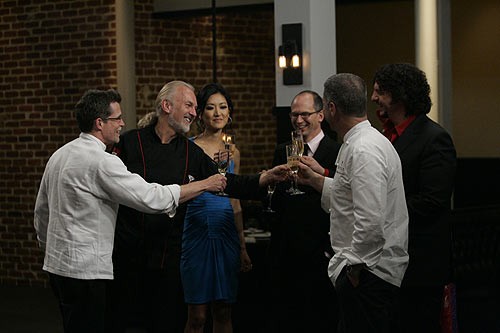 Pictured: (l-r) Rick Bayless, Hubert Keller, Kelly Choi, James Oseland, Jay Rayner, Michael Chiarello © Bravo Photo: Kelsey McNeal
LOSERS
Kelly Choi
: She's bland and boring compared to
Padma Lakshmi
. This was an impossible battle for Kelly and her protruding chin to win.
Michael Chiarello: He was tolerable in the beginning, but once he disrespected former contestant Dale Talde with a "young man" comment, his act became too annoying. He seems like someone who constantly rubs people the wrong way.
Ugly Hats: Thank Gael Greene for this one.
The Star Rating System: See
all of my previous "TCM" articles
.
Bland Personalities: Anita Lo and Suzanne Tracht are amazing chefs, but I don't think they're ready for the television just yet. Approximately 38 words came out of Suzanne's mouth in her two episodes, and Anita's awkwardness made me more uncomfortable than watching a movie sex scene with my parents.
Voiceovers: Was it just me, or were the voiceovers in "TCM" must more noticeable - and distracting - than in regular episodes of "TC"? It seemed like half of the Judges Table portion of the show was voiced over.
All in all, it was a great first season of "TCM." I'd be excited if Bravo brought it back again, but once a year might be going a little overboard. Maybe once every few years would be nice. I'm looking forward to another amazing installment of "
Top Chef
," with the new season taking place in Las Vegas! Thanks for reading!
-Phil
Story by
Phil McRae
Starpulse contributing writer
*
Follow Phil's super-exciting tweets on Twitter!
Small image: Rick Bayless © Bravo Photo: Kelsey McNeal