The Wanted Star Max George Denies Dating Lindsay Lohan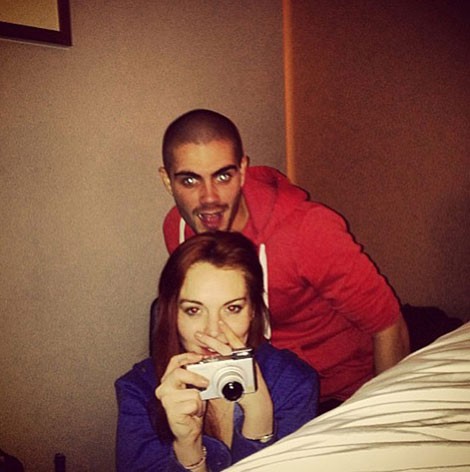 Reports suggesting Max George and Lindsay Lohan are dating are false, according to The Wanted singer.
The twosome were initially linked in November after they partied together in New York City and the actress was arrested on suspician of assaulting a clubgoer.
Following the scuffle, fellow bandmember Jay McGuiness wore a "Free Lindsay" t-shirt while perfoming with the band at Madison Square Garden. During a radio interview, George said: "She always brings vodka to the table, that's definitely one thing... It's fine. She's good company."
Earlier this month, Lohan visited George in his hometown of Manchester, England. She met his parents after celebrating New Year's Eve in London.
On Monday, the actress posted a photo on Instagram of the two of them goofing around in a bedroom, presumably in a hotel. Lohan looks mischevious in the pic with George standing right behind her. So are they a couple or is this just a one-way infatuation?
In response to the image, George posted on Twitter: "Rumours... That's all..." He has also referred to Lohan as a "groupie."
In a December interview with the Huffington Post, George said of the actress: "I love that she can party nearly as hard as we can. We had a big night on the (tour) bus where (British singer) Ed Sheeran came on with us and a few of our mates as well, and we just had one big party. It was great...I'm sure she's got people around her that know her much better than we do. We're probably not the best influence, to be honest."