The Wanted Are Keeping Lindsay Lohan 'Out Of Trouble,' Drinking The Vodka She 'Always Brings' To The Table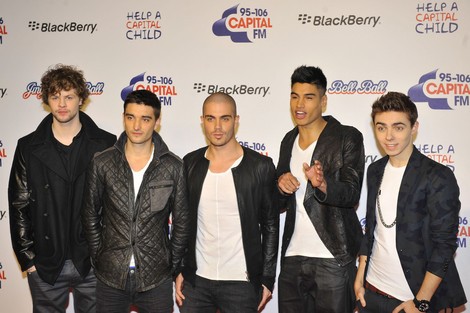 Lindsay Lohan has been partying with The Wanted during their tour, and member Max George says over the last week he has been keeping the actress "out of trouble."
Last month Lohan was hanging out with the British band in New York City when she was arrested for allegedly punching a fellow clubgoer. Following the scuffle, bandmember Jay McGuiness wore a "Free Lindsay" t-shirt while perfoming with the band at Madison Square Garden.
Lohan has been acting as groupie for the band, traveling with them on their Jingle Bell tour to Philadelphia, Pennsylvania, on Wednesday; Boston, Massachusetts on Thursday; and again to Madison Square Garden in New York City in Friday.
Rumors swirled that she may be dating Max George, with whom she was photographed hugging. The singer told New York radio station Z100, he said, "I think we've proved to ourselves, if we can stay out of trouble and keep her out of trouble this week, then we're obviously outstanding citizens of the community, and we've managed to do both, so I'm quite proud of that."
McGuiness interjected, "Aside from the first night (when she was arrested)."
George added, "She always brings vodka to the table, that's definitely one thing... It's fine. She's good company." What's troubling is that Lohan has endured several stints in rehab for drug and alcohol problems.
In an interview with the Huffington Post, George explained: "I love that she can party nearly as hard as we can. We had a big night on the (tour) bus where (British singer) Ed Sheeran came on with us and a few of our mates as well, and we just had one big party. It was great...I'm sure she's got people around her that know her much better than we do. We're probably not the best influence, to be honest."