'The Walking Dead' Shatters Cable TV Records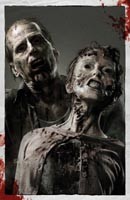 Cult zombie drama The Walking Dead has shattered its own ratings records in the U.S. by scoring the most-watched finale in the history of cable TV network AMC.

An average of nine million people tuned in to see the final episode in the show's second season on Sunday night - 50 per cent more than those who watched the first season's finale in December, 2010.

The Walking Dead now ranks as the top-rated show in cable TV history among young adults.

In the show, created by Frank Darabont, a police officer, played by Andrew Lincoln, leads a group of survivors in a world overrun by zombies.