'The Voice's' Tim Mahoney Talks New Album - And New Class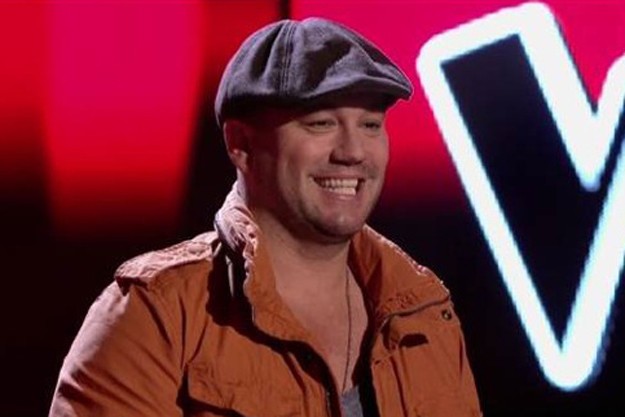 While The Voice is going full steam ahead, one of BFTV's very first favorites from the series is moving forward in his career as well. Tim Mahoney - the season one member of Team Adam that Adam Levine infamously thought was a woman when listening to his blind audition - not only has a new album out, but is broadening his teaching career, too. BFTV recently caught up with Tim to get the dish on everything he has going on.
Tim dropped his newest album, Shine Through, earlier this spring following a handful of individual songs, including his playful TV experience-inspired track, "Hey Adam Levine," which caused a sensation when it debuted. "Post-The Voice, I have come out with a few singles, [but] as far as a new release of original material, it's the first time since 2007," he said. "I did want to do it different this time. I wanted to make it feel like we're all musicians playing together, so we recorded it mostly live in a few days. The only tracks that are not [live] are 'Hey Adam Levine' and a track called 'Truth Can Hurt.' Not a lot of overdubs; didn't want to get crazy with that. I didn't want to make it seem too shiny."
That's because Tim has always been a down-to-earth working musician, traveling throughout his native Minnesota playing his gigs and paying his dues. Aside from The Voice and a previous audition for Rock Star: INXS - the series which fellow Minnesotan and season two Voice artist Jordis Unga placed fifth on - he hasn't attracted the kind of national attention that other artists from reality competition series have.  He's just quietly continued making solid pop-rock music.
"There's a track on there called 'Shadow' which, it's a really mellow, dark song, but I do feel it's one of the best I've ever written," he said. "I was with a girl for a fair amount of time, and we split up, and that song is about her. There's some really fun stuff. The song on there I kind of just think is fun is called 'Put A Line There.' The single's actually a song called 'Shine Through,' which I wrote for a guy who wanted me to write him a song [as] a surprise for his wife, and I ended up liking the song."