'The Voice's' Blake Shelton & Adam Levine Talk Bromance, Boobs & Christina Aguilera In The New People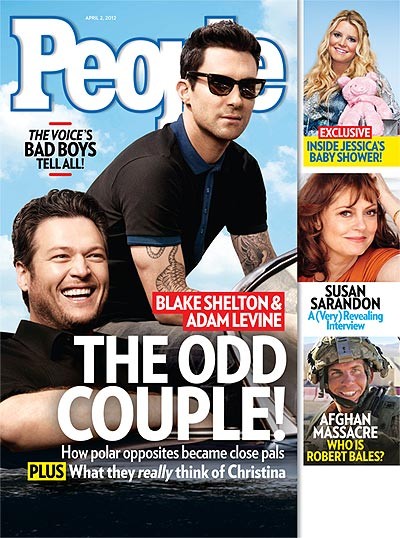 More than 19 million viewers tune in weekly to watch the good-natured rivalry between Blake Shelton and Adam Levine on NBC's hit singing competition show, The Voice, which features Shelton, Levine, Christina Aguilera and Cee Lo Green as they develop fresh musical talent. On the surface Shelton and Levine appear to be polar opposites. "We're like Thelma and Louise," jokes Levine, "but dudes!"

The strapping 6'5" Shelton, 35, is an avid hunter who lives in his native Oklahoma with his new wife, fellow country star Miranda Lambert. Rocker and L.A. native Levine, 33, a lean 6', went to elementary school with Jake Gyllenhaal and is dating Victoria's Secret model Anne V. PEOPLE sat down with the odd couple to discover whether two outspoken stars can share an interview without driving each other crazy.

PEOPLE: So let's talk about your friendship.
Blake: [sarcastically] Bromance!
Adam: [also sarcastically] Bromance!
Blake: A few weeks ago somebody asked me, "What about you and Adam's bromance. Is there anything to it?" And I sputtered off, "Yeah, I'm going to make out with him." The next thing you read is "Blake wants to kiss Adam." Man, I can't believe how…
Adam: …true that is? [laughs]
PEOPLE: Everyone wants to know: Is it true you guys don't get along with Christina because you think she's a diva?
Blake: Christina's a diva – one of the greatest-female-vocalists-of-all-time kind of diva. And with that comes confidence. But a lot of the times, it's just misunderstood. She shows up and works her a s s off. I actually get along with her awesomely. But I won't say we haven't had arguments before.
Adam: She's often the target of negative criticism, and I want to defend her. We can't underestimate the fact that she's the only girl [on The Voice]. There are three frat boys doing this, and she's got to deal with our nonsense. I feel the need to kind of speak up and say, "Leave her alone, man."

PEOPLE: What are you two like off-camera?
Adam: We rarely talk about [The Voice] when we're hanging out. It's healthy and better off that way.
Blake: If I'm hanging out with Adam, I want to drink a beer and talk about the Lakers, not the show.
Adam: That's a lie. You've never spoken about the Lakers. I don't think you even know who's on the team.
Blake: I meant to say boobs.


The full Q&A with Blake Shelton and Adam Levine appears in the April 2 issue of PEOPLE, on newsstands everywhere now!

*Also In This Week's 'People'*
-Exclusive – Inside Jessica Simpson's Baby Shower: "I'm Ready To Have My Body Back!"
-Exclusive – Marilyn Monroe Never-Before-Seen Photos
-Susan Sarandon: "It's Hard To Be In This Business And Not Be An Alcoholic Or A Drug Addict"
-Rachel Dratch: "By Hollywood Standards, I'm A Troll, Ogre, Or Woodland Creature"