'The Voice' Week 2 Recap: New Artists, Same Tactics From The Coaches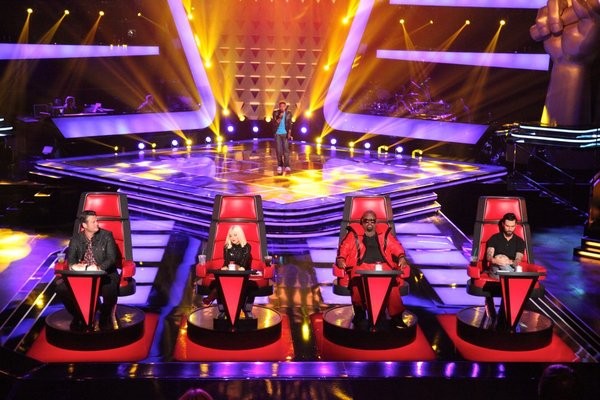 Welcome to week two of The Voice, where we're still looking for more than 30 singers good enough to join the competition. Team Adam Levine needs 7 more artists, while Team Blake Shelton, Team Cee Lo Green and Team Christina Aguilera are all searching for 8 more performers.
As Blake arrives with his armful of championship trophies ("That's how many Grammys I have," Adam quips), first to the microphone tonight is 25-year-old soul singer Ray Boudreaux, performing "Use Me." Blake turns his chair almost right away, and isn't happy when Cee Lo decides to push his button as well, prompting Adam to threaten to do so just to further infuriate him. In the end, though, it's a two-coach race for the Louisiana native.
Adam: You look like Blake and you sound like Cee Lo.
Blake: He doesn't look like Blake. He's thin.
Adam: ...Like a more handsome Blake.
Ultimately, Blake's finger-pointing wins out over Cee Lo's name-dropping Bill Withers, as Ray decides to join Team Blake. Backstage, Carson says that he thought Ray would go with Cee Lo, which Ray admits he also thought, before he changed his mind in the heat of the moment. Ah, what might have been.
Following Ray is 23-year-old Lina Gaudenzi, who adds her name to The Voice's list of former models turned performers. She's singing Fleetwood Mac's "Landslide," the song that got Suzanna Choffel on the show in Season 3, and which Javier Colon performed with Stevie Nicks herself in the Season 1 finale. It works this time, too, as Christina turns her chair for Lina, while longtime Nicks fan Adam is singing along, but not making a move. At almost the last moment, Blake decides to challenge Christina.
Christina: I think he speaks kind of one language over there.
Blake: It's called winning.
Christina tries once again to play the "it's his fifth season, he must be fatigued" card, and gets an unexpected endorsement from Adam. From the look on his face, Blake knows he's beat, and he's not surprised at all when Lina joins Team Christina. After she leaves the stage, Adam walks over to Blake and tells him that the other coaches are aiming for him because "you need to lose." Christina chimes in that America needs change. Agree or disagree?