'The Voice' Top 6 After Monday Night's Playoff Performances
The Voice has narrowed its Season 3 field down to 6 artists, and after they once again performed for America's vote on Monday night, they spoke with Big Red Chairs about their songs and what they're hoping for going forward.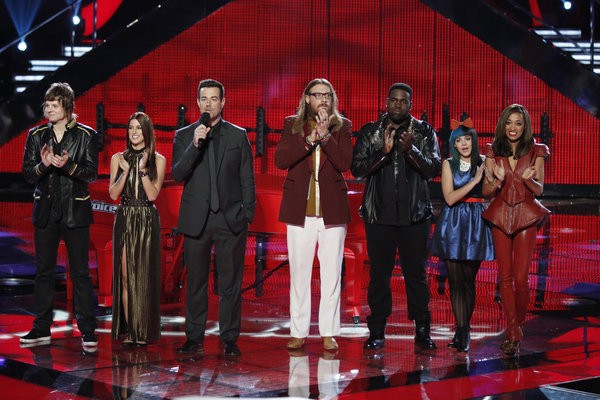 "I definitely think it's close. I feel like it could really be anybody that could move forward," said Team Adam's Amanda Brown, who sung Aretha Franklin's 'You Make Me Feel (Like A Natural Woman)' and Whitesnake's 'Here I Go Again.'
The latter was her coach Adam Levine's idea, and of the song choice Amanda reflected, "I was just like, 'Okay, let's do it.' I was excited. I like to do songs that allow me to have fun and kind of be myself and not have to worry about the fact that this is a competition. I feel like the two songs I did tonight allowed me to do that."
In past seasons, the finalists have done duet performances with their coaches and celebrities, so who would she like to share the stage with? "There's so many people on my list," she explained. "I would love to perform with Paul Simon, I'd love to do a song with Dave Grohl, I'd love to do a song with Peter Gabriel, I'd love to do a song with Prince. There are a lot of people."
Her teammate Melanie Martinez had the most unique performances of the night, with a tiny piano on the set for her rendition of Gnarls Barkley's 'Crazy' and a colorful, school play-esque backdrop for Lenka's 'The Show.' These interesting ideas were the result of collaboration between Melanie and her coach.
"I definitely asked for the tiny piano. I thought that'd be cool," said Melanie of her take on 'Crazy,' crediting another Voice artist with the song choice. "Mackenzie Bourg actually suggested that song to me. I kind of just went with it and I was really happy I got to show both sides to me. 'The Show' was very lighthearted and 'Crazy' was creepy."
Part of her performance of 'The Show' involved a stagehand pretending to row a boat, and he was particularly enthusiastic about his job. "During rehearsals he was like that too, so it wasn't just for camera," Melanie confided. "He was always just really excited to row that boat."
So after tiny pianos, rowboats and fake dolphins, what would Melanie bring to the table next? "Real dolphins," she quipped, before saying that she'd love to duet with "Regina Spektor, Ed Sheeran, Kimbra, Lana Del Rey, all my faves."