'The Voice' Top 6 After Monday Night's Playoff Performances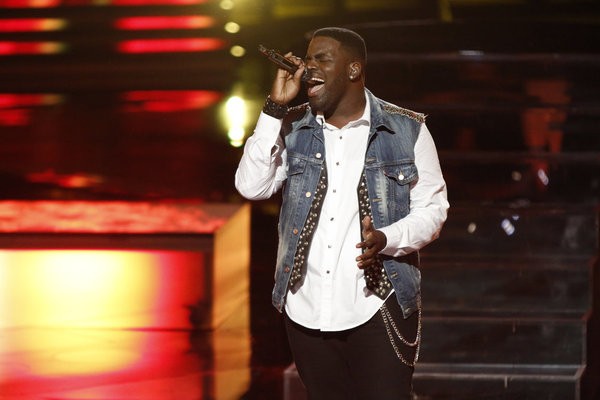 Team Cee Lo's Nicholas David and Trevin Hunte got a surprise this week as their coach fell under the weather and Train lead singer Pat Monahan was brought in to fill his spot during rehearsals. "It was different from working with Cee Lo because we've definitely established a relationship with each other," said Nicholas, "but it was cool to [have] a fresh perspective that kind of shook things up a bit."
"It was a great experience working with Pat," agreed Trevin. "I loved it because I actually got different advice and a different spin on how to approach the song. I was definitely happy for that. I love Cee Lo to death and Pat is amazing."
Of his choice to perform 'Somewhere Over The Rainbow' on Monday, Nicholas said, "I've tried to do songs that kind of speak a little bit deeper message and so I've tried to remain consistent with that. I think that was a fun choice and also a way to just say thank you to my mom, who's been a huge support. She's believed in me from the get-go."
Cee Lo handed Trevin the Katrina and the Waves song 'Walking on Sunshine,' and Trevin admitted afterward that "I was very skeptical about that performance. It was kind of out of my realm. But I think I gave it my best shot."
If he gets the chance to do a celebrity duet, he added that "I have so many people I want to sing with...Fantasia, Beyonce, Celine Dion. The list goes on."
Team Blake's Cassadee Pope, who sang Rascal Flatts' 'Stand' and Avril Lavigne's 'I'm With You,' said that her coach choosing the former for her was a bit intimidating. "It scared the crap out of me because it's a song that, on its own, doesn't really showcase my vocals and I needed to bring that this week," she explained.
The latter song was her idea, and she added that "I see that song as such a dramatic song. This show is all about the drama and the theatrics and how you connect with songs, and I've connected with that song since I heard it."
Cassadee's choice for a celebrity duet partner was fairly close to home. "For my moral values and just wanting to kind of tip the hat to her, I would have to sing with Miranda Lambert," she said. "Letting me sing her song, such a special song to her, and also for her to show so much support to me and Terry [McDermott] throughout this whole thing. It means a lot to me that she supports us so much. She's one of the nicest people."