'The Voice': Top 12 After Their Live Playoff Performances!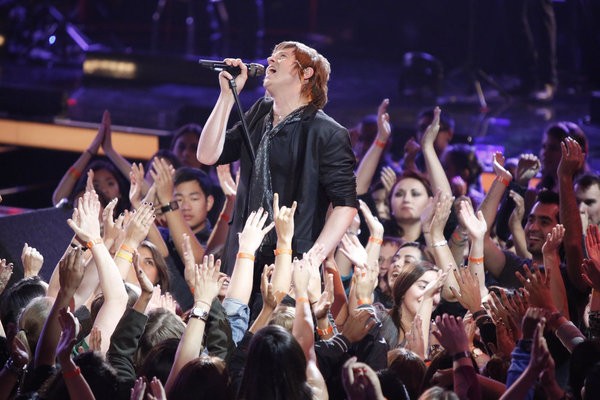 Team Blake's Terry McDermott characterized his choice of Boston's 'More Than A Feeling' as "deliberately difficult," and added that he has no concerns about continuing to stay in the classic rock genre that he's impressed with thus far in the competition. "I know who I am and what I feel I am," he explained, "and I feel like if I'm going up there, I should be honest and I should put on the kind of show that really, really exemplifies that and I think that's what I want to stick to."
Still, he knows that The Voice's younger audience might not know classic rock: "I've had some messages from people about [his blind audition song, The Who's] 'Baba O'Riley' saying, 'Is that your song?'" he said with a laugh. "No, that is very much not my song and if it was my song, you'd be phoning me on a private island somewhere in the Bahamas."
"This is what runs in my veins," he added. "This is what I've been doing since I was a child and this is what I'll be doing when I'm an old man. I would happily die on stage. You'd get spectacular ratings if somebody dies on stage," he joked.
For Team Adam's Melanie Martinez, Young the Giant's 'Cough Syrup' was a challenge. "The song wasn't really in my comfort [zone] I guess, but I'm just happy that I did it and happy that I got it over with in a way. I'm just excited," she confided.
Going forward, she said that "I just want to show America a different side to me and kind of explore a little bit, but stay within who I am as an artist. The challenge is getting America to like me and vote for me. I'm just hoping."
Team Blake's Nicholas David was still processing his performance of the Huey Lewis and the News hit 'The Power of Love' as he walked the red carpet. "When I play, I kind of open myself up as a vessel, so it's kind of hard to recall," he admitted. "It will take me a little bit to come back."
He added that he was surprised to have won America's vote last week "To a certain degree. But this whole adventure never ceases to amaze me. All these turns and twists, I can't not be surprised. I go into every situation with an open mind and an open heart."
What would he like to do next? "I really hope to be able to play the piano," he said. "I've been playing the piano for longer than I've been singing."
He added that he's planning something after the show with his battle round partner, Todd Kessler. "We've already spoken about that while we were here," he explained. "We just gravitated toward each other and became brothers. He calls every day before the shows and stuff. He lives in Chicago and I live in Minnesota, so we're not too far apart. That's definitely on the to-do list."