'The Voice': Top 12 After Their Live Playoff Performances!
The Voice's Top 12 took the stage on Monday night to secure their spots in the Top 10 - and after the show ended, they spoke with Big Red Chairs to critique their performances and discuss what's next for each of them.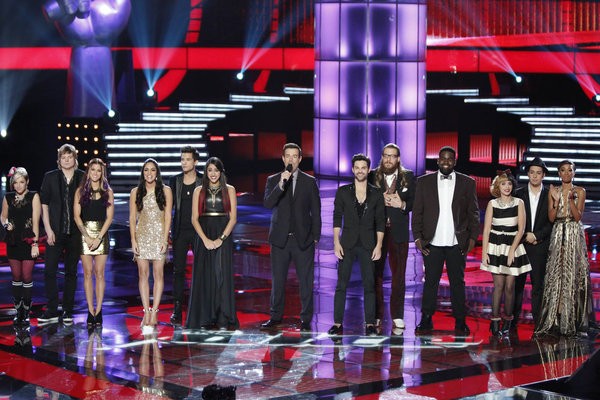 "I honestly feel like I set out to accomplish what I did," said Team Blake's Michaela Paige, who opened the show with her rendition of Pink's hit 'Blow Me (One Last Kiss).' "I picked a challenging song, which most people don't think of that as a challenging song. I wanted to go out there and really show people that my hair doesn't define me. I can still be a star regardless of all that jazz. So I really think that I accomplished that."
If she advances to the next round, "I'm hoping to do a ballad," she added. "I really want to show people the softer side of me and it's about time that we do that."
"I need to watch back my performance and really study it. But just in the moment, I really felt like I nailed it," said Team Cee Lo's Cody Belew on his take of Tina Turner's 'The Best.'
"I am an artist who has not really given away everything at the beginning. I'm layering it and that's by design," Cody explained. "Next round I've requested an even bigger, more epic song just because I keep wanting to prove to America that I can hang with the big dogs. I'm a fun guy but I can also bring it."
Asked if he thought he's been underestimated, he said, "I do, but that's not necessarily a bad thing. It leaves room for surprise, for improvement." He added with a laugh, "I can do pretty much any song you can throw at me. They've tried to get rid of me like four times now with giving me all these crazy songs to do. But I think I've consistently proven that I can hang."
Of her performance of Florence and the Machine's 'Spectrum,' Team Adam's Amanda Brown said, "It's in the direction of what my original music sounds like. It's always difficult when you're performing covers. It doesn't represent you one hundred percent like your original music will."
"I definitely want to continue to do music that maybe will give America a better idea of what my original music will sound like," she continued. "I think people might be a little surprised but I definitely want to ease more in that direction from this point forward."