'The Voice': Tony Lucca & Justin Hopkins Have Bright Post-Show Futures
Neither of them won Season 2 of NBC's The Voice, but rockers Tony Lucca and Justin Hopkins are doing very well for themselves regardless.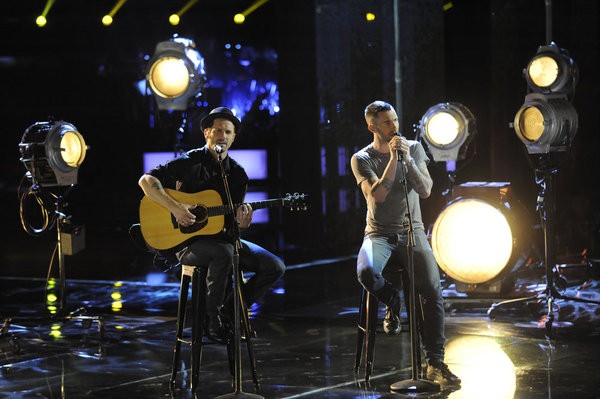 Lucca, who was Team Adam's finalist and ultimately the third-place finisher, was signed to Adam Levine's 222 Records recently. During an interview backstage before his concert in San Diego, he talked about how the deal came together.
"Once it was decided that Universal [Music Group, the label associated with The Voice and which holds options on all of its contestants after production] wasn't going to move forward with some type of project with me and we were in the clear, [Adam] wasted no time," explained Lucca, pictured above left with Levine during Season 2. "He's like, 'We will sign you.' He was confident enough to go ahead during the blind auditions and shout it out and kind of caught us all off guard."
According to the interview, Lucca is aiming to prepare a single or EP for early 2013. He's also continuing his charitable efforts with The M.I.L.E. (Music Is Love Exchange), which works to make it possible for touring musicians to have the time and finances to do good works while they're on the road.
Lucca himself is currently in the middle of his "Chapter Two" tour, which includes Hopkins as support through October 28, Team Blake's Brian Fuente in Nashville on October 30, and Chris Cauley - Lucca's battle round partner on Team Adam - in Duluth, GA on November 1.
For the full interview with Tony Lucca, click here. For future tour dates visit his website (tonylucca.com). You can also follow him on Twitter (@luccadoes).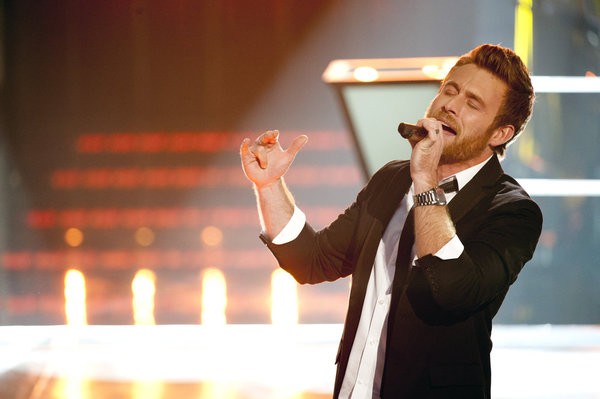 Meanwhile, Hopkins, a member of Team Cee Lo who left the competition during battle rounds, has just completed recording his live acoustic album, This Could Happen Anywhere.
The album is a perfect example of what acoustic records should be - a "less is more" experience that allows the listener to focus on Hopkins' unique lyrics and the fantastic grit in his voice. For example, the version of "Here Goes Nothing" that appears has a completely different feel from the track that first appeared in 2007 on the Justin Hopkins & The Guilt album of the same name. It's a genuine, charming collection of tunes that shows that fans of The Voice lost out when Hopkins was sent packing.
This Could Happen Anywhere is not yet on iTunes, but you can listen to plenty more of Hopkins' music by visiting his ReverbNation page and keep an eye on his official Facebook page for album release updates.
Backstage in San Diego, Hopkins talked about why he's excited for fans from the show to check out this unique release. "The reason I made that was essentially to give people a taste of where the songs come from, why I do this in the first place, how I was doing it before the show," he said. "And we did it to tape so it has an old-school feel and sound to it. There's tunes on there that nobody's ever heard. I did more obscure stuff that people would have as much new music as possible."
For the full interview with Justin Hopkins, click here. You can also keep up with him by following him on Twitter (@jhopsmusicbox) and visiting his official website (justinhopkinsofficial.com).
In other Season 2 news, winner Jermaine Paul announced on Facebook Wednesday that his next single will premiere during The Voice's live results show on November 8, and that his post-show album will be available on December 18.
Season 3 of The Voice continues Monday, October 29 at 8 PM ET/PT on NBC.
For more from Brittany Frederick on The Voice, visit Big Red Chairs and follow me on Twitter (@bigredchairs).  
(c)2012 Brittany Frederick/Big Red Chairs. Appears at Starpulse with permission. All rights reserved. No reproduction permitted.