'The Voice' - the Blind Auditions part 5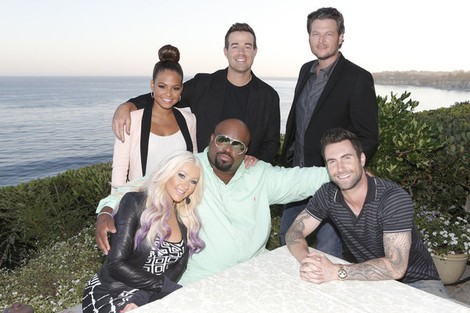 It was another night of blind auditions as the four coaches continue to build their teams.  As the night began Cee Lo an Blake have seven singers; while Christina and Adam have nine singers.
The first singer of the night was single mom Trevaine who took on the legendary Whitney Houston but failed to impress the coaches; but Christina did say Trevaine had some great moments.
Guitar player and singer Collin McLoughlin impressed the guys enough to turn their chairs but Christina felt the performance was a little too mellow for her.  Adam called Collin one of the purest singer he had ever heard.  While Collin respected all of the coaches he chose Adam for his coach.
Teen singer Joselyn Rivera performed "Stronger" and got Christina and Blake to turn their chairs.  Joselyn chose Christina for her coach.
Former race car driver Benji sang Dylan's "Knocking on Heaven's Door" and got Adam and Cee Lo to turn their chairs.  Adam said that Benji's scream should be heard by the world.  Christina said that she hear a bit of Adam in the performance.  Benji chose Adam for his coach.
­
Emily Earle, Ben Taub, and Todd Kessler all chose Cee Lo for their coach.
Loraine was out to prove age wasn't a factor in getting a spot on "The Voice"; but her performance of "Skyscraper" failed to impress the coaches.
The final performance of the evening was from Mycle Wastman with the Al Green hit "Let's Stay Together".  The guys turned their chairs with Blake calling Mycle the best vocalist they had heard tonight and Cee Lo was excited about Mycle.  Mycle chose Cee Lo for his coach.
The teams so far…
Team Christina:
De'borah
Devyn DeLoera
Adriana Louise
Aquile
Nelly's Echo
Lisa Scinto
MarissaAnn
Beat Frequency
Paulina
Joselyn Rivera
Team Cee Lo:
Daniel Rosa
Trevin Hunte
MacKenzie Bourg
DOMO
JR Aquino
Nicholas David
Avery Wilson
Emily Earle
Ben Taubb
Todd Kessler
Mycle Wastman
Team Blake:
Terry McDermott
Graciaa Harrison
Casey Muessignamm
Julio Cesar Castillo
2Steel Girls
Liz Davis
Kelly Crapa
Team Adam:
Bryan Keith
Joe Kirkland
Samuel Mouton
Loren Allred
Nicole Nelson
Melanie Martinez
Brian Scartooci
Alessandra Guercio
Adanna Duru
Collin McLoughlin
Benji