'The Voice': Season 3's Top 10 After Monday Night's Performances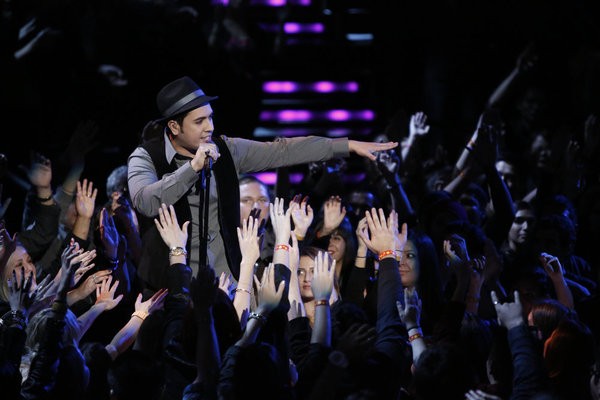 His teammate Cassadee Pope did some emotional heavy lifting with her take on 'Over You,' the song that Blake and his wife Miranda Lambert wrote about the passing of Blake's brother. Asked how she held herself together during the tear-inducing tune, she said, "I kind of just told myself that if I started to cry, that it wouldn't sound good. I just composed myself and I told myself 'It's the difference between staying here and going home, and I want to stay.'"
It was the second time she'd handled an emotional song, after her take on Kelly Clarkson's 'Behind These Hazel Eyes,' which she previously said reminded her of her relationship with her father. "It takes a toll, definitely," she continued. "I feel emotionally drained after every performance. But I know that's something I want. If people are going to pick up the phone and vote for me, they need to feel emotionally attached to me."
"I'm kind of ready to go balls to the wall now," she added. "I want to show that I can put on a good show and run around and go crazy like that."
Another person for whom things were personal was Team Adam's Bryan Keith, whose performance of Billy Joel's 'New York State of Mind' meant a lot to the New York native. "It was all just heart and soul. That's why I looked so comfortable up there. It just came out of me the way I wanted it to," he said afterward. "I'm from New York and I love New York, so I feel like I brought the spirit of New York to the stage and into people's homes, and that's something for me to be proud of and I am proud of it."
"I just love being in the streets and like meeting so many people who come to New York and it's a dream come true for them when they're there," he continued. "I have a lot of friends there. It's all I know. I grew up there. It's this whole spirit, it's just very different about New York. People are stronger, I feel like especially with what happened recently with the hurricane, we always bounce back from things and we have this spirit of trying to lend a helping hand to each other. I've always been that way. That's what it is for me. That's what New York means."
"I feel like I've been doing something different every week and I like the way tonight went. I felt really good," he added. "This is the kind of stuff that runs through my veins."