'The Voice': Season 3's Top 10 After Monday Night's Performances
The Voice's Top 10 artists again sung to stay in the competition on Monday night, and after their performances, they joined Big Red Chairs to discuss what went into their songs and what they'll do while waiting to see if America votes them through into the Top 8.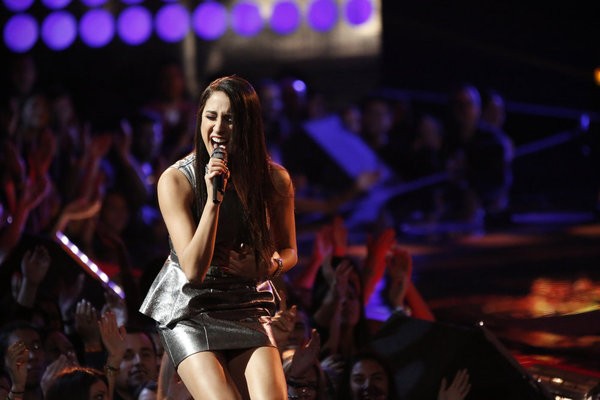 "I found out today," said Team Christina's Sylvia Yacoub when asked when she heard that her performance of Alicia Keys' 'Girl on Fire' would open the show. "It definitely adds more nerves because that's kind of the note the whole show starts on and then you kind of have to make your performance memorable enough that people want to vote for you by the end of the show."
The choice put her back behind the piano, something that worked very well for her when she previously sang Katy Perry's 'The One That Got Away,' but Sylvia said that wasn't an intentional choice on her part. "It just happened. I was feeling the song and Christina was like, 'I really want you to start in front of the piano again,' and I thought it was a really good idea," she explained, adding, "I'm so glad I got to do a song that reached out to a lot of people."
"I felt pretty good," said Team Blake's Terry McDermott after his take on Bryan Adams' 'Summer of '69.' Talking about his use of the microphone stand throughout the performance, he explained that "I think it's a throwback to my days in touring. I just love to get the Freddie Mercury on and kind of carry that thing around the stage like I'm going to whack somebody with it. It's not as light as it looks either, because it's not counterbalanced right. Don't grab it in the right place, you're going to make a fool of yourself pretty quickly."
"I get on tremendously well with Blake," he said of his coach. "I like him as a person, I think he's a great coach. It turns out that Scottish country and American country really aren't that far apart. They're very straight talking, down to earth and I think there's a connection there that really made it easy for me to get on and enjoy being on his team."
Having performed American rock classics and now a song by a Canadian, Terry added that he just might keep broadening the audience's musical horizons. "Who knows?" he said. "Maybe I'll take it back home, go back to the UK."