'The Voice' Season 3 Premiere Recap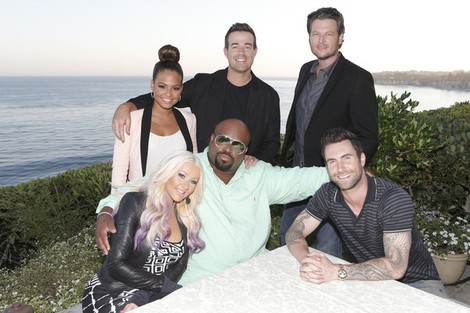 "The Voice" made its season three debut with a two hour episode featuring the blind auditions.  After a performance of "Star Me Up"; it didn't take long for Adam Levine, Blake Shelton, Cee Lo Green , and Christina Aguilera to begin their friendly sparring over singers.  But only one singer managed to get all four of the judges to turn their chairs.
By the end of the night 14 singers had auditioned with eight of them being placed on coach's teams with singer Brian Keith, following in the footsteps of his Latin Jazz singer father, had the crowd on their feet, cheering, and turned all four chairs. 
One singer, Devin, took a big risk and performed a song by Christina – "Ain't No Other Man".  Country singing yodeler had the coaches proclaiming Gracia the best country singer ever seen on the show.  Blake added that country radio was full of singers who could not do what Gracia did.
But not all was good news.  The coaches said Anita and Jessica sang great but had not feeling or magic moment in their performances.  A 16 year old Garrett impressed the coaches but lacked the control to get a coach to turn their chairs.
The teams so far…
Team Blake:
Terry McDermott
Gracia
Team Christina:
De'borah
Devin
Team Adam:
Brian Keith
Joe Kirkland
Team Cee Lo:
Daniel Rosa
Trevon Hunte