'The Voice' Roundup: Season 5 Finalists Perform, New Tour Info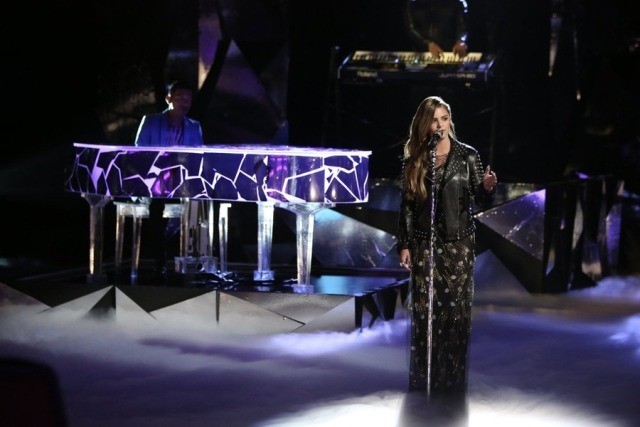 Just in time to promote their new singles - and the recently announced The Voice tour - the three finalists from Season 5 of the hit NBC show came back to its stage this week. BFTV caught up with Jacquie Lee and Will Champlin on Monday, and we've included the video of their performances as well as that of Season 5 winner Tessanne Chin in case you missed them. The songs are available on iTunes as well.
Jacquie spoke with us about being reunited with Tessanne and Will for the tour, which begins next month in San Antonio, Texas. "I've seen Tess and Will since [the end of Season 5]," she said, "and then I met Dia for the first time the other day...Dia is amazing. We're both nerds. We get along really well and we're going to have so much fun on tour. She's already like a big sister kind of figure."
About her new single, "It's my first song that I'm ever releasing," she told us. "We've been working hard on it...I worked my butt off after The Voice, and I'm coming back as a new artist, away from the show as my own person, so it's a really cool feeling...I'm really honored to be singing it on The Voice stage where it all started."
What's been the coolest thing that's happened to Jacquie since The Voice? "Ed [Sheeran]. Ed followed me on Twitter," she laughed, but then teased, "I have some exciting news - just keep an ear open. You should just be hearing a lot from me really soon."
Here's Jacquie performing "Broken Ones," which amusingly is just one word off the title of Dia Frampton's first post-show single, that was called "The Broken Ones."
Will Champlin was the third-place finisher in Season 5, and we asked him if there's any one Season 6 artist that he would like to see take home the title - and therefore a guaranteed place alongside him on tour. "I don't know. It's hard to say and hard to speculate at this point," he said. "It's anybody's game. I think they're all talented and I know what it's like to be in their position."
Has his career after The Voice gotten the boost he hoped it would? "Yeah," he told us. "I just know that it set me into a state of priority to work on the music that's going to work for me as an artist. I've been just putting my nose to the grinder in the studio and trying to get this album done before the tour comes out and just try to drive it home."
Will released his first single "Last Man Standing" a few months ago, and "Eye of the Pyramid" is setting a benchmark for him, too. "it's going to radio without a label," he told us, "which is another very cool thing." That's extremely cool, although we hope somebody wises up and signs this tremendously talented artist soon.
Here's Will performing "Eye of the Pyramid."