'The Voice' Results Show: Who Went Home and The Reaction!
Last night America spoke on NBC's The Voice, sending two members of Team Christina and Team Blake home, leaving twenty artists to sing on.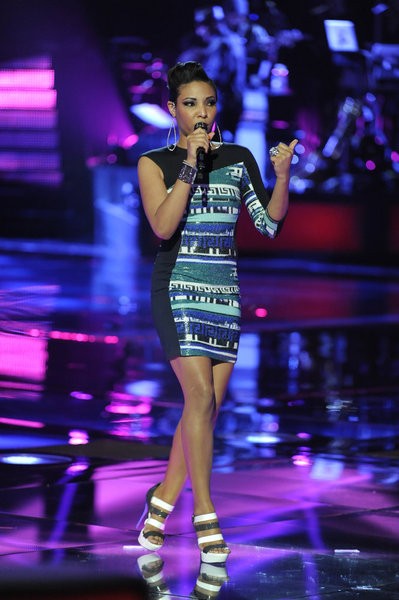 Christina's team bid farewell to Sera Hill and Moses Stone, as Christina chose to save Ashley de la Rosa. Meanwhile, Blake kept Jordis Unga and lost Charlotte Sometimes and Naia Kete.
The results came after a new part of the show this season: a "sudden sing" where the bottom three got a chance to perform for their coach's save (as opposed to last season, where a coach selected one based on their previous live performance).
Some of America's votes were fairly obvious. Did anyone truly expect that Chris Mann or Lindsey Pavao would be sent home? However, some were downright shocking, such as Raelynn being voted in after her live show performance that still has me scratching my head, while Charlotte ended up in the bottom three and eventually going home.
I caught up with many of the artists after the results to discuss their thoughts on their individual fates and the loss of their teammates. As you might imagine, it was a tearful night on the red carpet, as everyone agreed that eliminations are no easy thing - no matter which side of the results you're on.
"I didn't sleep well, because you just never know," said Jesse Campbell. "You can hope for your best, and do your best, and hope that your best is good enough. In this case, I believe that it was, because the public voted me through."
"I'm still processing it," admitted Lindsey.
Said Chris, "I kind of went numb over the last 12 hours. I literally went numb. I was nervous and I was kind of just letting whatever happens, happen. I came in today with no expectations. We were backstage getting ready to go on, and I turned to Sera Hill and I was like, 'Oh yeah, this is happening.' I think I was in denial. It's really sinking in what this show is all about."
The thing that many of the contestants spoke of was the bond that they had formed and theirt great respect for each other. A few of them spoke to me with a tear in their eye or a tremor in their voice. "These are people that are going to be pursuing things and we're definitely going to be involved. These are family now," said Erin Willett. "I know that Charlotte has had success before and I know she will again. Naia is like the sweetest person ever."
"My friends that are leaving, I have complete confidence in them," agreed Lindsey, while Chris added, "Sera Hill is a beautiful person, I love her, and Moses is my roommate. Charlotte and Naia are wonderful as well."
Even coach Christina Aguilera was touched by the losses. "I see the potential in these people from day one. I really am instinctual in the process of how I do things. I really get to know my team. That's why it's so much harder to see people go. We definitely form a bond," she said, adding that she's still in touch with past artists from Team Christina and would keep in contact with the ones going home last night.
So what's next for the departing artists? Don't worry - they have plans beyond The Voice.
"It's only the beginning. It's not the end," vowed Sera. "I'm going to be singing all over Atlanta. Hopefully, some big things come out of this. I think they will. I'm staying positive. I'm going to take it and build upon it." You can follow her on Twitter at @SeraHillSings to follow what she does next.
"I'm happy what I've accomplished," Moses told me. "Showing people that you can show all of these different things. It's about being a true artist. I look to touch more people with my music." You can follow him on Twitter at @IAmMosesStone and visit IAmMosesStone.com to keep up with him. If you haven't already, his single "My Moment" remains available on iTunes.
As for Charlotte, you might be hearing more of her than you think! "I'm releasing an album. I'm working with Cheyenne Jackson on his album," she said, then added, "I work as a songwriter for Sony, so last year I wrote for a lot of the contestants. I'm sure I'll be writing for them again. Even though you won't see my face, they might be singing my songs." You can catch up with her on Twitter at @4EverSometimes and visit CharlotteSometimesMusic.com as well.
My best wishes to Sera, Moses, Charlotte and Naia on their future endeavors after The Voice. I'll be keeping an eye (and an ear) out for whatever they do so I can bring it to you! Stay tuned next week as Team Adam and Team Cee Lo take the stage - and we find out who will move on to the round of sixteen. One thing's for certain though: once again this show has provided a stage for not just amazing talent, but also wonderful people.
(c)2012 Brittany Frederick/Digital Airwaves. Appears at Starpulse with permission. All rights reserved. No reproduction permitted.