'The Voice' Results Show: Which Four Artists Went Home?
It was decision time again on NBC's The Voice, this time for Team Adam and Team Cee Lo. Who did America save and who sung their last song Tuesday night?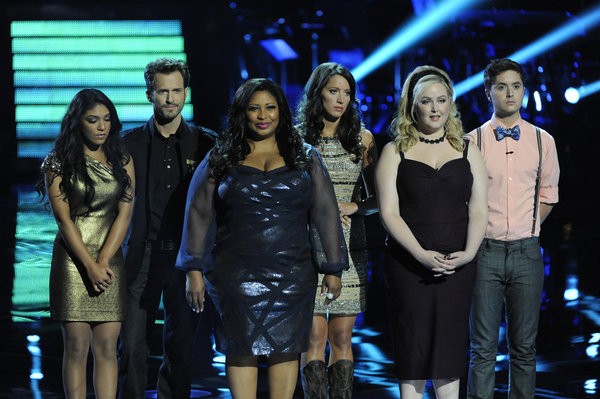 For Team Adam, the bottom three were a trio of lovely ladies: Kim Yarbrough, Katrina Parker and Karla Davis. It was Katrina's heartbreaking rendition of No Doubt's "Don't Speak" that won her Adam's one reprieve.
On Team Cee Lo, facing elimination were Tony Vincent, Cheesa, and Erin Martin. Cheesa delivered a powerful version of Eric Carmen's "All By Myself" that earned her a second chance, despite Cee Lo first saying that his head was leaning toward protecting Tony.
That wasn't the only surprise: when asked which of Cee Lo's three at-risk artists she would save, coach Christina Aguilera found herself unsure of Tony's name, a moment which he said afterward made him feel "put off."
Of Cee Lo's choice to reverse course and let him go, he added, "I take it as what it is. I think that if you don't go with your gut, you probably are going to make a misstep. I do think he made a misstep tonight...but if I was in his seat, feeling those things, I can't say that my decision would be different."
Asked if his oft-talked about appearance had something to do with America's failure to vote him further in the competition, Tony replied "I think that actually has a lot to do with it. I read a little bit of online stuff last night that [his live performance] came across as a little bit socialist, a little bit militant. I thought it was almost like a new Pink Floyd 'The Wall' to me. But America isn't about that. They're about Top 40, at least this audience, and that's okay. I've had an amazing experience and I leave on a very high note."
Paging Justin Hopkins: now the two of you are free to start touring together!
People who want to keep up with Tony's next moves can follow him on Twitter at @TonyTheVincent, or visit his website at TonyVincent.com. You can also check out his back catalogue of music at iTunes.
While Tony was surprised by his departure, his teammate Erin was upbeat and ready to move forward with the next chapter in her life. "I feel like I really got pulled out of my element with the performances I had to do," she confided. "[They] weren't songs that are good for me to sing. I would have liked to go down the acoustic lane a little bit more." However, she added that "I got to go out with a song perfectly fitted to my voice."
Despite her musical difficulties, she made it clear that she still appreciated the opportunity. "It was fun, you know? I just enjoy the people on my team, and the people throughout this journey, that I've made friends with. They've been really wonderful and they're going to be my friends for life. I'm good with everything that's happening right now."
For more from Erin, she suggests that you give a listen to her EP Kinder Than Silence. You can also follow her on Twitter at @ErinMartinMusic and visit her website at ErinMartin.com.
Team Adam's Karla Davis was likewise at peace with her exit. "I thought I did well," she said of her last-chance performance of the Bonnie Raitt tune "I Can't Make You Love Me," which Team Blake's Lex Land sung in blind auditions this season. "That's my favorite song ever. The producers kind of told us 'If you could sing any song to save yourself what would it be?' I couldn't be happier with that."
The people she wanted to express her gratitude towards were the ones most of us may not have paid much mind to. "I want to thank all the people behind the scenes of the show. From hair and makeup to the crew to the producers to the band. They're the ones that put so much work into it that people don't see, and they work ten times harder than everybody else," she told me.  "And I really want to thank the people who have supported me. That support is pretty incredible."
Karla can be found on Twitter at @karladavismusic, on her website at KarlaDavisMusic.com, and on iTunes.
I did not get the chance to speak to Kim Yarbrough for this story, but to keep updated on Kim's future projects, be sure to follow her Twitter at @kimyarbrough and visit her website as well!
I want to extend my best wishes to all of the departing artists as they move forward with their careers. The Voice's live rounds continue on Monday, April 18, as four more hopefuls will leave the competition - and Maroon 5 will perform their new single "Payphone" with Wiz Khalifa, off their upcoming album Overexposed.
(c)2012 Brittany Frederick/Digital Airwaves. Appears at Starpulse with permission. All rights reserved. No reproduction permitted.