'The Voice' Recap: Who Earned The Last Spots In Auditions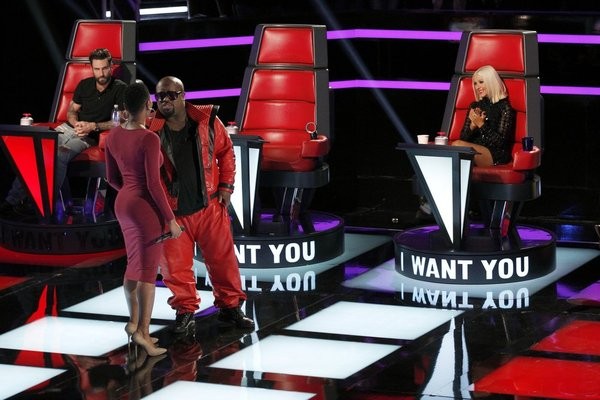 Auditions are getting down to the wire on The Voice. Our coaches have almost completely filled their rosters, with Adam and Blake each only able to select 2 more singers, Cee Lo needing 3 more, and Christina only having 1 more spot to give. That's 9 opportunities left for a whole lot more than 9 hopeful performers. How tough is tonight's final audition round going to be?
Starting us off is another returning performer, 20-year-old Matt Cermanski, who has learned not to sing a Katy Perry song. This time, Matt's got his guitar in hand for "Have A Little Faith In Me." He gets a better result, too. Adam hits his button for Matt early on, followed by Blake and Cee Lo (much to Blake's annoyance). Adam remembers Matt from last season, especially once Matt states that he previously performed "Teenage Dream."
Adam: And that's why we didn't pick you, because it was weird. You want honesty, that's what you're gonna get.
Blake disapproves of Adam's pitch to Matt.
Blake: I wouldn't say 'we're meant to be together' and stuff like that.
Adam: You say that to me every day.
Since Adam is the only coach to really make a detailed argument, Matt sides with Team Adam, leaving the Maroon 5 front man with just one free spot on his team.
22-year-old Diego Roman Navaira, joining the ranks of Voice artists who are children of performers, is a member of the band Ready Revolution, who you probably know because they've worked with Season 3 artist Devyn DeLoera. Diego comes with his version of "Rebel Yell" and captivates the audience, but the coaches are harder to convince. None of them turn for him, although at least Blake looks to immediately regret it. Diego finds himself a victim of the "we only have limited slots and have to be super-picky" argument.
Tamara Chaunice comes to us from the church, and the 23-year-old has selected "1+1" as the song that will hopefully restart her music career. Christina bites after the first line, and Cee Lo has to think about it but eventually joins her. Christina wants to compare similarities, while Cee Lo works his usual flirtatious charm. It gets the job done, though, because Tamara says yes to Team Red Zone.