'The Voice' Recap: Usher's Final Steal Goes To Team Shakira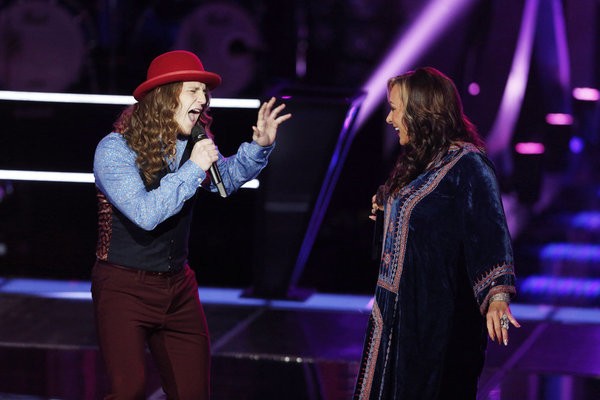 Can you believe we're halfway through The Voice already? After tonight, only knockout rounds and live shows remain. But first, it's time for some more abbreviated battles.
Team Shakira leads off the night, teaming up Brandon Roush with Shawna P in a battle of youth versus experience. Shakira has selected the Janis Joplin hit "Piece of My Heart," and she and advisor Joel Madden meet the pair, who were somewhat expecting to compete against each other. Shakira's looking for the artist who most connects with the sentiment in the song, which seems at first like it might be easier for Shawna, but Brandon finds his place in the song by the second rehearsal.
The eclectically styled duo arrive at the studio for their battle. Shawna has the expected command of the stage that comes with her much longer resume, while Brandon certainly doesn't sing like a teenager. In fact, maybe these two should consider collaborating together when it's not a competition.
Adam calls the battle fun, then tells Brandon that Blake used to have the same haircut - but seriously now, he says the 19-year-old rose to Shawna's level. Usher compliments both artists. Nobody asks for Blake's opinion, so it's back to Shakira, who is pleased with both of her artists but ultimately elects Shawna as her winner. The only person left with a steal after last night's action is Usher, and he chooses not to use it on Brandon.
Next to battle are Team Adam's Duncan Kamakana and Sarah Simmons. It's the battle of the guy who got twenty seconds in blind auditions against the girl that turned all four chairs. Duncan and Sarah get handed the Lady Antebellum song "Wanted You More," which is great and/or slightly intimidating considering that Adam's advisor is Lady Antebellum's Hillary Scott. Hillary is impressed by Duncan's first crack at the song.
Hillary: I envisioned him serenading some girl and her just, you know, drooling over him.
But can Duncan and Sarah come together as a team? At their second rehearsal, Adam thinks they don't even sound like they're in the same room. The pair obviously did their homework, though, because when they're in the ring, this battle is anything but one-sided. It's like watching the sudden disintegration of a relationship on stage. Their rendition is beautiful, painful, and definitely did Hillary Scott proud.