'The Voice' Recap: The Semifinals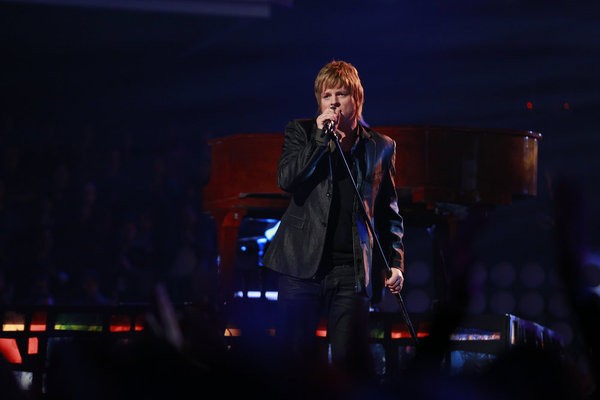 With that, the focus shifts to Team Blake, and to frontrunner Cassadee Pope. She heads back to her native Florida, where there's a surprise party waiting at her mom's house. After that, she is greeted by a crowd of supporters at a local radio station before she gets a key to the city of West Palm Beach and delivers a live performance for plenty of adoring fans.
Cassadee sings "Stupid Boy" by Keith Urban to try and secure her spot in the Voice finale. It's another country song that proves that if she ever wants to step beyond pop-rock, there's a whole second genre waiting for her. Her rendition gets another standing ovation from her coach.
Christina comments that "sometimes your voice sounds so right on that you almost sound Auto-Tuned." Carson moves directly from her to Blake, who explains that the reason Cassadee has done country songs on the show is because of her ability to connect with a lyric, which lends itself toward certain country tunes.
Terry McDermott gets to close out the hour. Fans get to follow Terry not back to Scotland, but to his adopted home of New Orleans. His return is a surprise to his son, who is overjoyed to see dad. Also on Terry's to-do list is a trip to the local Hard Rock Cafe to dedicate some memorabilia from his time on The Voice and a performance at the Crown & Anchor Pub, where he's shocked to see his aunt and uncle, who have flown all the way from Scotland to support him. "The look on his face was just absolutely brilliant," says his aunt afterward.
Terry's song choice is another classic rock tune by the most iconic of bands: The Beatles' "Let It Be". Carson prefaces this by calling it one of the most loved songs of all time. But if he's intimidated, the Scotsman doesn't show it. With a minimal set design that rightly places the focus on the music and some support from yet another choir, he goes out there and sings his heart out. It's a simple, heartfelt song and he doesn't overdo it. He's even got Adam singing along with him.
Carson calls the rendition "awesome" before throwing the discussion to Adam, who says "Thank God for you, Terry. You're so wonderful." There's no time for Christina or Cee Lo, so it's right to Blake, who says that Terry is one of only a handful of singers who should ever attempt that song. "In my heart, I believe that was musical perfection," he adds. You can't get a stronger endorsement than that.
Other than the four performances by the finalists, the rest of the shortened show is filled by guest appearances by Team Blake mentor Michael Buble (whose Christmas special airs later Monday night), Howie Mandel (promoting his new NBC game show Take It All, which broadcasts between The Voice and the Buble special), and the entirety of Team Blake Season 3.. If you didn't know already, they sung on the version of "White Christmas" which appeared on Blake's Christmas album. There's also a commercial for Christina Aguilera's new fragrance.
Monday also marked the arrival of Team Blake alumnus Erin Willett's new EP, which includes a guest appearance from Team Cee Lo's Jamar Rogers. You can purchase it on iTunes.
Which three artists do you want to see in the finale? And have you set your DVR for another shortened performance show next week as that finale ends a half hour earlier at 9:30 PM ET/PT? Most importantly, have you voted yet? Voting for The Voice is open until 10 AM EST tomorrow morning and the results will be revealed tomorrow night at 8 PM ET/PT on NBC.
For more from Brittany Frederick on The Voice, visit Big Red Chairs and follow me on Twitter (@bigredchairs).  
(c)2012 Brittany Frederick/Big Red Chairs. Appears at Starpulse with permission. All rights reserved. No reproduction permitted.