'The Voice' Recap: The Semifinals
We've now reached what previously were the finals for The Voice, but is now being billed as the semifinals: the Top 4. For the first time in the show's history, only two coaches - Blake Shelton and Cee Lo Green - have artists in the mix. Team Blake's Cassadee Pope and Terry McDermott, and Team Cee Lo's Nicholas David and Trevin Hunte, are singing to find out which three of them will go head-to-head next week for the title of 'The Voice' of Season 3.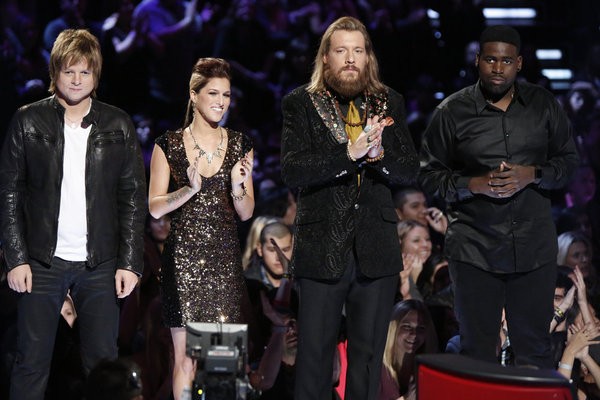 Perhaps owing to the reduced field, Monday night's performance show is only an hour long, and Carson reveals that it includes the Final 4 being sent back to their hometowns, similar to what American Idol did this past season with their finalists. Trevin reunites with his family at a homecoming party, then visits his middle school to speak to the kids there. Trevin's performance this week is another ballad, "Wind Beneath My Wings", which Carson says is dedicated to his middle school.
Adam tells Trevin that he'd coincidentally said "out loud, with witnesses" that Trevin should do that song. Christina relates her history with that song before saying that Trevin "took it to a whole different level." Blake is skipped over before Cee Lo reminds his artist how "amazingly beautiful" his voice is. Warm and fuzzy moment: accomplished.
Next to be featured is Trevin's teammate Nicholas David. First, audiences get to see him head back to Minnesota to check out his new house and be reunited with his family. After that, he and his wife head to the doctor to hear the heartbeat of their impending child, and as if that wasn't enough, Nicholas gets a huge reception at the Mall of America including the gift of a golden microphone before heading off to play a hometown gig.
Nicholas's song is "You Are So Beautiful" which he dedicates to his family. If you were moved by his past rendition of "Over the Rainbow," this is even better - and a little bit surprising given that it's his first performance on the show without his trademark sunglasses.
Adam calls the performance "all I ever care about with any kind of singing" and says that he likes Nicholas as an individual. Carson then passes over Blake and Christina to get feedback from Cee Lo, who calls the rendition "so heartfelt, so beautiful" and it's hard to disagree.