'The Voice' Recap: The Live Playoffs, Night 2 (Team Christina/Team Cee Lo)
After Team Adam and Team Blake took the stage on Monday night, Wednesday night on The Voice belongs to Team Christina and Team Cee Lo.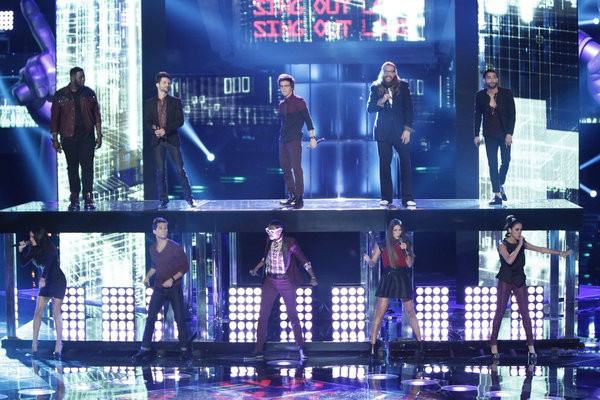 As in the previous installment, the show opens with a joint performance by both teams. Teams Christina and Cee Lo draw the My Chemical Romance hit "Sing," for which they've color-coordinated their wardrobe, but despite some great individual moments it doesn't quite have the same pop as Teams Adam and Blake's take on Boston's "Peace of Mind" from Monday. There's a Samsung spot featuring coach Blake Shelton and Season 2 champ Jermaine Paul that follows, which brings back fond memories of Season 2.
But it's time to look forward to Season 3. It's Team Christina's Adriana Louise who gets the leadoff spot, singing Katy Perry's "Firework," which Christina describes as "a lot of notes that have to be accurate." The choice is right up Adriana's alley, and she knows how to get the audience into the song, so it's a wonderful choice to start the night.
Feedback time: Cee Lo tells Adriana that "Team Cee Lo does consider you worthy competition," which is an odd compliment. Adam notes that it's "a total bitch to sing that song," and tells her she did an "incredible job." Blake remarks that "it's a big deal" every time Adriana performs and quips that he doesn't like it. Christina thanks Adam for pointing out the difficulty of the song. "I don't know if I'd be up for that challenge," she admits, but Adriana clearly rose to it.
Team Cee Lo's Cody Belew gets the second spot with George Michael's "One More Try," which Cee Lo handed him to give him "a very intimate and emotional moment." This proves to be a pretty good idea, because Cody does very well with the song, and even gets the ladies swooning a little bit.
Adam calls it "a genius choice of song." Blake tells Cody that he and his wife Miranda Lambert are fans of his. Christina concurs with Blake. Cee Lo praises Cody's charisma and stage presence. Could Cody be a dark horse in the competition?
Cody is followed by Team Christina's De'Borah with the Pink song "Who Knew." In rehearsal, Christina hopes that De'Borah relaxes and finds her confidence. De'Borah is far from reserved when she's on stage, though, and the crowd clearly loves her.
"Hearing great music is one thing; feeling it is something else," says Carson afterward, weighing in himself before throwing it to Cee Lo, who says "I feel your confidence," so obviously it's mission accomplished. Adam tells De'Borah "there's nothing regular about you" and Blake adds that he's envious of her energy on stage: "if that would've been me, I would've hyperextended something." Christina declares that De'Borah commands the stage.