'The Voice' Recap: The Live Playoffs, Night 1 (Team Adam/Team Blake)
The Voice has reached its final phase of competition: the live shows, or as they've suddenly been re-christened, "live playoffs." For the next six weeks, the voting public of America get to help decide the fate of the Top 20, until there's only one left standing.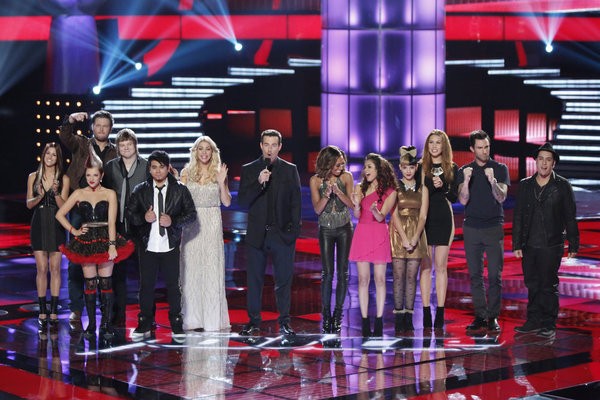 Teams Adam and Blake are performing on Monday night, and as host Carson Daly explains, only three of the five from each team will be moving forward - two by America's vote and one by their coach's save. The other two will be eliminated from contention when the results are revealed on Thursday.
The coaches are prepared for the competition. "Adam's once again built a really strong team," Blake says in voiceover, "but don't count out Team Blake." Meanwhile, Adam's sense of humor rears its head as he calls the live shows a "more serious Olympics." And Carson has a problem looking at Cee Lo with a straight face since Cee Lo showed up in another ridiculous outfit.
The show opens with both teams joining forces to perform Boston's  "Peace of Mind." The highlight of this number is getting to hear Team Adam's Bryan Keith in harmony with Team Blake's Terry McDermott, but the entire thing brings back fond memories of The Voice Live on Tour.
Following that, Team Adam's Joselyn Rivera is the first performer to step onstage, singing Demi Lovato's "Give Your Heart A Break." In rehearsal, Adam warns her that she must connect with her audience, no matter what else is going on around her. That's a tip that Joselyn seems to have taken to heart, with a very simple performance setup and several moments where she does her best to engage the crowd. Plus, she's got pink highlights that match her wardrobe. That's kinda neat.
Blake tells Joselyn that "you're one of the people we can always count on to be great" and he's still bitter that she's not on his team. Her former coach Christina praises her for "working the stage" and says she'd like to hear a ballad from her next. Joselyn cracks up a bit when they get to Cee Lo, with Adam telling her "Try to take him seriously; it's extremely difficult right now." That brings it back around to her coach, Adam, who praises her for listening to what he told her but also staying true to herself. "You really thrived in this environment," he says.
After a trip to the new "Sprint Skybox," which is about as useful as the "Sprint Lounge," Terry leads off for Team Blake, armed with another classic rock song that everyone knows: Journey's "Don't Stop Believin'." Unsurprisingly, he sings it a whole lot better than the many, many people who've attempted it at karaoke night. He hits all of his notes while maintaining the spirit of the song.
Christina tells him that "the precise clearness in your tone and the execution, it's effortless," and says she's a fan. Cee Lo cracks himself up before he compliments Terry's confidence. No one asks Adam what he thinks, as Carson goes right to Blake, who agrees with Christina and Cee Lo, adding that "when God was passing out the ability to rock, he gave Terry just a little bit more." This is a pretty awesome compliment, and one that is well deserved.
From Terry it's on to Team Adam's Melanie Martinez, the fan favorite who's singing the Ray Charles classic "Hit The Road, Jack," which Adam quips is "way older than she is...people are going to freak out." Such a different song choice, though, is typical Melanie, who puts the same unique spin on it that she did on Britney Spears' "Toxic" and La Roux's "Bulletproof." It's reminiscent, at least in vibe, of Juliet Simms tackling James Brown's "It's A Man's Man's Man's World" in Season 2, except that the latter had more punch behind it, whereas this is more jazzy.
Blake comments that he admires how "you always find a way to make something your own, no matter what...you're just not that interested in fitting in. You just want to be Melanie." Christina seems slightly unimpressed, saying that "it started out a little pitchy" but that "I appreciate your vision as an artist." Skipping Cee Lo, Carson goes directly to Adam, who informs Christina that the song choice was Melanie's, and adds that "I didn't find myself comparing it to [the original]...I was totally mesmerized by that whole performance."
Team Blake's Liz Davis is next to sing, with Martina McBride's "Independence Day." Blake is pinning his hopes on her as she's the only country artist remaining in the competition. Liz is a little too attached to her microphone stand through the first part of the song, but eventually loosens up. Unfortunately, her chorus doesn't seem quite as powerful as one would expect (or maybe the volume of the band is a little too loud, as was a problem last season). It's a good performance, but it's not standout.
Christina calls Liz and Blake "such a perfect match" and approves the song choice. Cee Lo tells Liz that she made him proud to be an American, perhaps not aware of what the song is about. Moving past Adam, Carson goes to Blake, who reiterates that Liz is the "right country artist to bring into the live rounds."
After Liz is her teammate Cassadee Pope, singing Avril Lavigne's "My Happy Ending," which is a safe choice for the former rock band lead singer, and the only thing that's not expected in her performance is that she knocks the mic stand over when she pulls the microphone loose. That's not to say her rendition is poor, but it leaves one curious about what it would have been if she'd gone ahead with her initial ideas about doing something different.
Christina calls the version "solid." Cee Lo thinks Cassadee gave the tune "a lot more vulnerability." Adam tells her "I still want to know who you are...I still feel like I'm kind of waiting a little bit to see who is the real Cassadee Pope." Blake retorts that Adam will have plenty of time to figure that out, as he expects her to be around for awhile.