'The Voice' Recap: The Final Battles Have Surprising Results
We're down to the last battle rounds on The Voice. The last chance for hopeful artists to grab a spot in the live shows. (Can you believe we're headed into the last phase of the competition already? How time flies when you're singing your heart out!)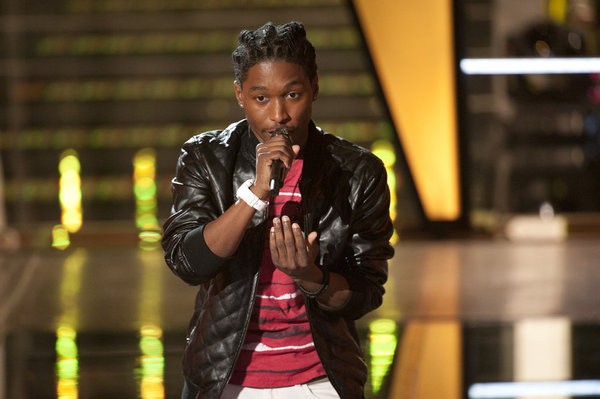 The night kicks off with Team Cee Lo: Wade vs. James Massone, with Cyndi Lauper's "True Colors." On first instinct, this might be a mismatch. But it wouldn't be the first time The Voice turns something that doesn't blatantly match into something special. James has his nerves get the better of him, and hesitates in first rehearsal, then is further thrown when he gets Ne-Yo as his mentor. Wade gets Babyface, who thinks he looks like a 12-year-old but sounds like Luther Vandross. The final rehearsal brings Cee Lo to tears, which is awesome. It's nice that he cares that much.
Battle time! James and Wade slow things way, way down for this one, and they do blend well together, almost better than the original (although to be fair, part of that is that I was never a huge fan of Cyndi Lauper's voice). It's great to see this song finally done on the show since Rebecca Loebe almost had it as her battle duet last season, and done well. Adam picks James, with the caution that there's work to be done, and Blake and Christina concur. What does Cee Lo think? As much as he had "plans" for Wade, he saves James.
Next, Team Adam steps up, with Mathai vs. Nicolle Galyon. As much as I love Nicolle, matching her against early favorite Mathai seems like a dangerous scenario for her. Adam hands them "Love Song" by Sara Bareilles, respecting Nicolle's ability to play the piano (which by the way, Adam can also do; check this video from the Grammys). She works with Robin Thicke and is concerned about still being able to connect with her audience behind an instrument. Mathai collaborates with Alanis Morissette and all seems well...until they get to final rehearsal. Then Adam decides he doesn't like the piano and tries to push it out of the ring. Watch out for your back, Adam! But will the absence of the piano come back to hinder Nicolle?
Let's find out. The two ladies certainly capture the bounce of the original tune, and at least Nicolle has a bit of sassiness going with it, although Mathai counters that by being adorable. There's not necessarily anything remarkable about this battle, but I wouldn't blast it either; I've heard a lot worse, including elsewhere in this season. Blake thinks Nicolle's breathing affected her performance, and picks Mathai. Christina calls the battle a "no-brainer" and likewise picks Mathai. Cee Lo calls Nicolle "a little generic" and prefers Mathai as well. It's another sweep of the coaches' panel. Adam admits that he wasn't very happy with the battle, but still must make a decision, and selects Mathai. I can't say I'm surprised by the results, given how Mathai seemed to come in with all the momentum, but hopefully both ladies should learn from the experience. At least, I hope so because Mathai's blind audition won't matter in the live shows.
From there, we get Team Christina's final battle: Moses Stone vs. The Line, with the Rolling Stones classic "Satisfaction." That's right, a country duo with a hip-hop artist on a rock song. Bzuh?! (And why do we need to replay Hailey stating that the duo aren't dating? That's the most important thing we could remind the audience of?) Christina tells the three artists how much she enjoyed sharing the stage with Mick Jagger, and encourages them to embrace the challenge. She pairs Moses with Lionel Richie, and The Line with Jewel, who tells them she doesn't want them sounding like people who sing at weddings. Uh, gotcha.
Game on! The Line find their swagger again, and Moses never lost it. It takes everyone a minute to heed Christina's advice to use the whole stage, but once they start pushing each other around, it's pretty fun and I can't help but sing along. Look at Moses going to the ground, even! He shows all sorts of new colors in this round. Cee Lo picks Moses, while Adam and Blake favor The Line. As much as I love my boys, I have to wonder if they're just adjusting their brains to the idea of "The Voice" being something outside of a traditional vocalist. Christina takes Moses, and I have to say that I agree with her. With that decision, it's another year with a duo getting knocked out in battles (hi, Elenowen). I'm just admiring how this duet should have been a huge disaster on paper, but turned out pretty darn cool. It just goes to show you that sure things sometimes backfire and the least likely combinations can catch fire.
Adam pairs Karla Davis vs. Orlando Napier on Hall and Oates' "Rich Girl," which Orlando doesn't know. However, we learned from last year that you don't need to know the song to win the battle (hi, Casey Weston). The first rehearsal doesn't go well and Adam rethinks his song choice. So we move on to Lionel Richie's "Easy," while I wonder if anyone tells Lionel that. Karla teams up with Alanis and Orlando with Robin Thicke, and there's not much to learn except that we should all call Karla "Bertha" from now on.
So who's going to take home Team Adam's last spot? It's clear that the song is in Orlando's wheelhouse, and he's still got that smooth quality that made me fall in love with his voice in the blind auditions. But don't count Karla out! She complements him well. It's easy (no pun intended) to see why Adam chose both of them for his team. I could just sit back with a cup of hot chocolate and relax to these two singing. I'd give the edge to Orlando, but I know that's in part due to personal preference. Blake thinks the battle is evenly matched, and sides with Orlando. Christina seems disinterested and calls it lackluster, giving Karla a not-quite-ringing endorsement. Adam thinks Orlando has a "very specific" vibe, and saves Karla, ostensibly because he can do more with her going forward.