'The Voice' Recap: The Final Battle Rounds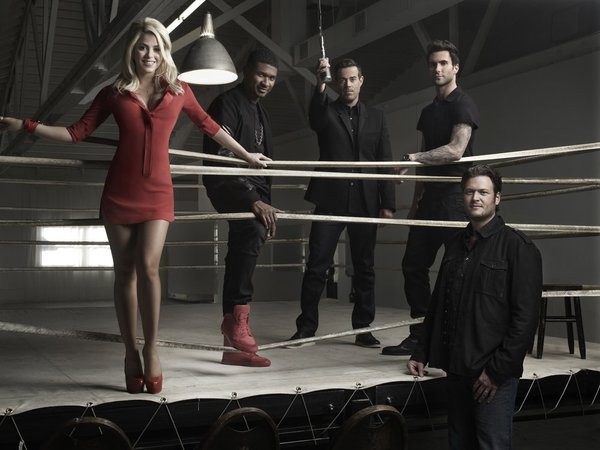 The Voice is just steps away from turning control over to you at home. In fact, we're less than two months away from crowning a new champion. But before we can do that, there are more battle rounds and more scenes of Chris Martin that we need to get to. So, here's Monday night's fight card!
1. Team Shakira: Dani Moz vs. Clarissa Serna, "Perfect"
Shakira matches her "powerhouse singers," looking to narrow it down to just one on her team. Their choices include Pink's "Perfect," Lady Gaga's "Edge of Glory," and Kelly Clarkson's "Catch My Breath." They go with the Pink tune, which has already been performed by Vicci Martinez and Niki Dawson (from season 1) and Katrina Parker (season 2). Shakira approves, saying she thinks it "has the right style to showcase the power of their voices." Although, there's only been one really surprising song choice yet, so...Chris Martin wants to see a little more performance, and Shakira wants less nerves.
From the jump, it's clear why Shakira paired these two together; not only do they sound fairly similar, they even look like they could be related. The result is a battle that basically comes down to personal preference, because they share the same strengths and both seem to have taken Chris's note about performing more toward the audience. Adam praises "major improvement on both sides" but also hits on the nerves issue. Blake votes for Dani, and Usher (still with that ridiculous hat) agrees. That brings it back around to Shakira, who chooses Dani.
Winner: Dani Moz
2. Team Adam: Kat Perkins vs. Dawn and Hawkes, "Suddenly I See"
With this "really tough" pairing, Adam thinks Kat has the power to counter the duo. He hands them two classic rock songs and KT Tunstall's "Suddenly I See"; he does love his classic rock. These three have an actual discussion about the tunes that goes beyond 'Well, which one do you like better?,' which is cool to see. Then Kat freaks out over Chris Martin, enough to get Adam to joke about it. We're further amused by how these guys don't get the usual "It's the [insert descriptor here introduction from Carson Daly. He just announces them and leaves it at that. Ah, well, we know who they are by this point anyway.
This is a battle that sounds perfect and looks terribly mismatched. Kat looks like she's liable to go over to Dawn and Hawkes, kick over their mic stand, and break the guitar, but of course she's not like that. It's another one of those examples of why The Voice's central concept is still true: don't judge an artist by their look. This one's actually hard to call, because she has great energy, and Dawn and Hawkes are one of the stronger duos we've seen on the show. Blake says it was almost like the duo was backing Kat up, and votes for her. Usher echoes that, saying Dawn and Hawkes need to "take command of the stage more." Shakira makes it three for three, saying that Kat "stood out." That kind of makes Adam's decision obvious: it's Kat. And Adam says what we've all known since Season 1, that "if it's not a duo that blows everybody away, it's going to be tough to get through."
Winner: Kat Perkins
3. Team Usher: Music Box vs. Melissa Jimenez, "Song"
Usher has his first chance to coach Music Box after stealing her from Team Shakira, and he's paired her with one of his strongest artists, Melissa. Their song choices are "Girl On Fire" by Alicia Keys, "What A Girl Wants" by Christina Aguilera, and "Only Girl In The World" by Rihanna. It's kind of clear what Usher wants to see from these two ladies, who very easily settle on the Alicia Keys track, which meets with Usher's approval (although you wouldn't know it from the initial non-reaction he and Chris Martin give). Chris wants both artists to "inhabit the lyrics more" and Usher backs him up by reminding them that "individuality in covers is so important." His comments make us wonder once again if allowing artists to perform their own music at some point is a good idea; then you'd definitely see individuality.
While nobody can touch the power and sass that Alicia Keys imbued the original with, these two ladies give a solid if imperfect effort. One of the things we love about Melissa is that she never loses her ability to enunciate even as she's belting out crazy notes; we can always understand her. She's met a great partner in Music Box, who matches her energy level. Shakira calls the battle partly great and partly not so great, and because Music Box used to be on her team, votes for Music Box. Adam points out that he actually performed part of that song with Alicia Keys, and thinks Melissa had more good moments. Blake agrees with Shakira and uses the situation to get a jab in at Usher's hat. (Someone steal that hat and hide it, please.) Usher gives the win to Melissa, who appears stunned by that decision. Trust us, girl: you earned it.
Winner: Melissa Jimenez