'The Voice' Recap: Team Christina and Team Blake's Knockout Rounds
Tuesday night's episode of The Voice is a special two-hour episode - because the remaining two teams are being cut down in half in the second and final installment of the knockout rounds. It's time for Teams Blake and Christina to see who makes it into their Top 5.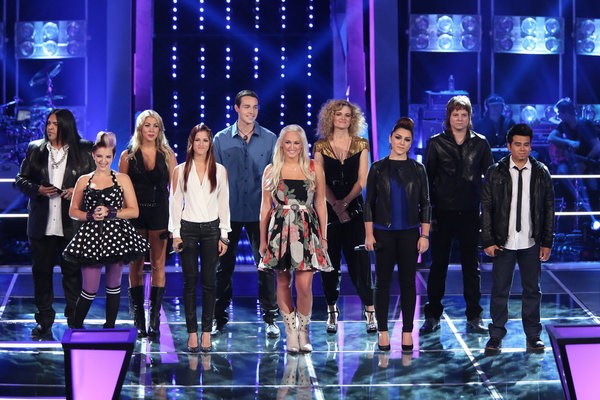 Team Christina starts the night, and Christina pairs Devyn DeLoera (see my interview with Devyn here) with Laura Vivas, wanting to see "who can deliver a powerful performance under pressure." Devyn's song choice is "I Have Nothing" by Whitney Houston (which Cheesa sung in Season 2), and Christina hopes her nerves don't play into her live performance. Laura goes with Marc Anthony's "I Need To Know," and her coach cautions her about her voice control.
After Devyn unleashed her in-your-face diva in her battle round, it's impressive to hear the belty, more vulnerable side of her. There's no denying that Laura's song choice is in her comfort zone,  possibly even too comfortable.
The coaches weigh in with their feedback. Cee Lo, of course, is all about the ladies, and calls Laura's performance one of the best he's ever seen. Blake compliments Devyn for stepping into Whitney Houston's big shoes. Adam doesn't get to weigh in, as Carson moves right to Christina, who thinks that Devyn can benefit from her coaching more than Laura, so she selects Devyn as the winner - much to the surprise of the rest of Team Christina backstage and Devyn herself.
Christina's next knockout pairing is Adriana Louise and Celica Westbrook. She wants to see which of these two "powerful pop singers" will "outshine the other." Adriana's song selection is Kelly Clarkson's "Already Gone," as she's looking to show emotion with a big ballad. Christina thinks she's "sticking a little too much to the script" in her rehearsal. Celica's choice is a surprising one, Justin Bieber's "Never Say Never," because she wants a song that's closer to her age range.
When it comes time to perform, Adriana has clearly taken the notes that Christina gave her, as she couldn't wring an iota of emotion more out of those lyrics. In contrast, Celica's rendition of the Bieber tune is more upbeat, a little bit aggressive, and works better than it sounded.
Adam tells the artists that "you both had different things that made you strong," and calls Blake a "hard-ass" and that "I wouldn't want you to judge me" after Blake calls both singers pitchy. Blake retorts that Adam's been a little bitchy. Laughter ensues. This means Cee Lo has no time to talk. It's right to Christina, who tells both artists that they gave her "tremendous talent," but ultimately gives the pass to Adriana. At least a tearful Celica gets a well-deserved hug from Christina.
Following that, Christina selects Alessandra Guercio and Dez Duron. "They clearly have two different styles, and I want to see the contrast and compare the two," she explains. Alessandra's song is "Take A Bow" by Rihanna, because she connects with it personally, and Christina wants to hear the "great rasp" in her voice. Dex goes with Lionel Richie's "Stuck On You," calling it "a different look" from his previous performances. His coach gives him tips on his breath control, noticing that he runs out of breath at a certain point in the song.
Alessandra gives a solid performance that impresses both her current coach and her previous one, Adam. But she's up against it because of Dez's huge popularity before he even opens his mouth. He does accomplish his goal of showing another side of himself, and he's certainly grown in leaps and bounds since he first auditioned in Season 2.
Cee Lo wants to know how Dez feels being on a team of beautiful ladies because his own team is full of men. "You did it to yourself," Adam tells him, before saying he'd choose his former student Alessandra. Blake wishes he could help Christina more but can't pick between the two. Christina selects Dez as the winner, much to the joy of the women in the audience.
Fourth to match up are Chevonne and De'Borah, and not because they each go by one name, but because they're "such energetic performers." Chevonne goes with Billy Idol's "Dancing With Myself," and Christina works with her on breaking the song down very specifically. Early fan favorite De'Borah picks The Fray's "You Found Me" because of how she can relate to the song, and her coach advises her not to set herself up with too many challenges.
Chevonne's song selection can't be faulted, as she's clearly enjoying herself and it seems to be a crowd-pleaser as well. De'Borah brings a certain almost pleading to her performance that wasn't in the original tune. Both renditions are unique, and that makes for an interesting decision ahead for their coach.