'The Voice' Recap: Team Blake And Team Shakira Face Off In More Live Playoffs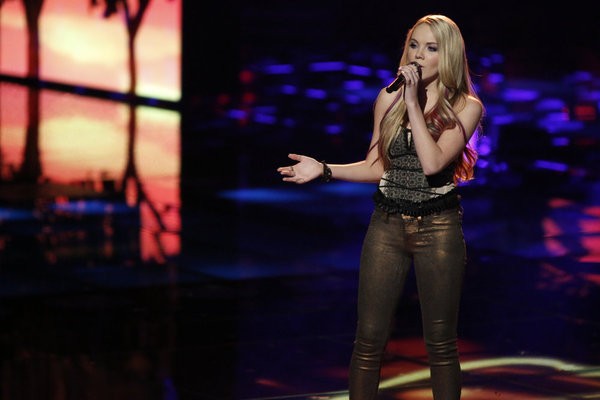 After Team Adam and Team Usher performed on last night's The Voice, it's time for Team Blake and Team Shakira. Blake is overjoyed that he has a team of all country artists, restating his dream of bringing a country artist to the grand finale. Shakira, on the other hand, is nervous and comparing herself to a mama bird. Usher and Adam are asked to reflect on how their teams did the night before, and dole out the usual amount of praise, as if Carson expects that one of them is going to go on live television and say something negative about their artists.
Team Blake starts the show, with a clip package of them getting coaching at a karaoke bar. Being taken to a karaoke bar by Blake Shelton has to be one of the most awesome experiences on the planet. Performances of party songs ensue, with the most entertaining of them being Danielle Bradbery laughing her way through "YMCA." This segues right into Team Blake's group performance of "Boondocks." Such a Blake choice, and it sounds exactly like you'd expect it to.
Leading off the individual songs is Team Shakira's second-chance artist, Garrett Gardner. Shakira has asked him to sing John Lennon's "Imagine" - an iconic tune if there ever was one - and play the piano. Turns out that Garrett is a Lennon "fanatic," so that must add a little pressure for him, too. However, he's got nothing to worry about. His version is pretty darn fantastic, and if he can pass muster with Adam, who is a well-known admirer of that track, he should get through to the next round. On another note, Usher confuses the words "computer" and "piano."
Usher: I'm happy to see you at a computer...I'm happy to see you at a piano.
Following Garrett is Team Blake's Holly Tucker, with "How Do I Live" by LeAnn Rimes, best known as the closing theme from the 1997 Nicolas Cage-John Cusack flick Con Air. Blake wants to see her have more fun because she's so hard on herself. If you've ever heard the original version of this song, Holly has the power to give the track the push that it needs. It's a straightforward country ballad done by a straightforward country artist, and Blake is way too excited about it.
Carson: He's a proud papa...and he's been drinking.
In the middle of uniform applause for Holly, there's this lovely gem:
Adam: You're better looking and more talented than Blake is.
Blake's so happy, he applauds that, too. Maybe we should cut off his supply of Starbucks lattes but that probably wouldn't help much.