'The Voice' Recap: Team Adam's Ladies Impress In First Live Playoff Show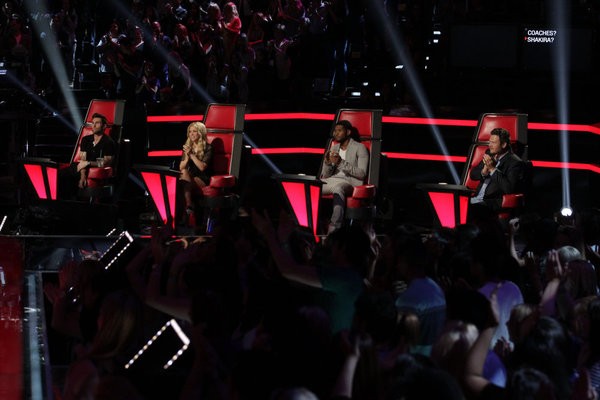 Starting The Voice live shows - and first to sing for your vote -  are Team Adam and Team Usher. Fans know that anything can happen during live playoffs, especially on the first night. So how did the introductory chapter of season four go?
First of all, Team Usher has their own labeled sweatshirts. Their coach has brought them to the gym in order to get them in gear for their first group performance, which surprises Josiah, who didn't expect to be working out for a singing competition. He finds out that singing and exercising simultaneously is difficult. Carson makes a slightly corny Floyd Mayweather joke before Team Usher performs "Black and Gold" on an appropriately colored stage. It's exactly the performance you'd expect from a team coached by an R&B singer.
Team Adam's Amber Carrington gets the first solo spot. The wardrobe department seems to love dressing her in black. She's singing "Stay" by Rihanna, which is something simpler and more emotional than what we've heard from her before. In keeping with that approach, the setup of her stage is pretty minimal, allowing us to focus on the clarity of her vocals. Adam gives Amber a standing ovation, while Blake thinks she set the bar for the evening pretty high before plugging the official coffee carrier of The Voice.
Blake: Makes me want to thank Starbucks for this latte.
Number two on the set list - after another awkward Sprint Skybox segment - is Team Usher's Josiah Hawley. His take on "Starlight" by Muse is stronger than the performances we've seen from him previously, but it still doesn't quite reach out and grab you like other artists have done. Carson thinks it sounded great. Shakira thinks it's Josiah's best performance so far. Adam approves of Usher's coaching. Then there's Blake being Blake.
Blake: Looks like the world's going to lose a male model. I'm gonna have to fill in.
Following that is Team Adam's Sarah Simmons, who's selected Sarah McLachlan's "Angel." It's a song guaranteed to make people cry; ask Javier Colon, who did it in season one. Sarah's voice has a tone to it that is reminiscent of McLachlan, so it's a great choice and you can see the emotional connection she has to the lyrics. It's also worth noting that Sarah almost always enunciates, which is something that's underappreciated in music. Blake calls her angelic and tells his team to do that, while Usher offers just some mild criticism, before Shakira whips out some more Spanish. And Adam? Oh, just calls her one of the most incredible singers he's ever heard. No big deal.