'The Voice' Recap: Team Adam and Team Shakira Pick Their Final Four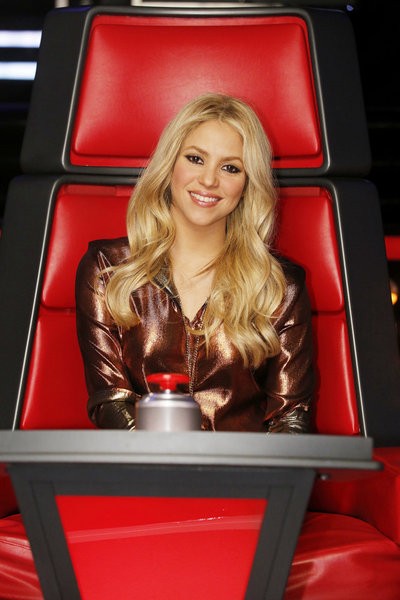 It's now time for knockout rounds on The Voice: that last step before live shows, where 32 hopefuls will be narrowed down to the 16 artists who will represent the four teams for America's vote. The first two rosters to get cleaved in half are Team Adam and Team Shakira.
Team Adam begins the night, with Adam assigning Amber Carrington to face off against Midas Whale. The knockouts allow the artists to choose their own music, and Amber selects Avril Lavigne's "I'm With You" for her performance, which Adam approves of. He's well aware of just how surprising she can be. The quirky dudes known as Midas Whale pick Stevie Wonder's "Higher Ground" in order to move out of their folk parameters. Amber - who is rocking yet another amazing new look - sings her heart out again. You'd think the light fixtures were going to explode at some moment; that's how good she is. The guys look just a smidge intimidated before they start, but they're still as entertaining as ever.
Blake: I like Amber as much as I can't stand Adam, and that's a lot.
Blake and Shakira side with Amber, while Usher takes Midas Whale. The only opinion that matters, though, is Adam's and he hands the first live show spot of Season 4 to an emotional Amber Carrington. It's bro-hugs all around for the folk duo, who are still good-natured even as they're leaving. Between the defeat of The Morgan Twins in battles and now Midas Whale in knockouts, the four-chair artists are beginning to fall.
We switch over to Team Shakira, where it's Garrett Gardner versus Tawyna Reynolds. Shakira wants to see which of these unique voices can best convey that originality in their performance. Garrett picks "Too Close" by Alex Clare, which his coach advises him to infuse with a little more attitude. Tawyna opts for the Pistol Annies song "Hell on Heels," befitting her country background. Shakira tells her to stick with the yodels. It's a battle of artists with guitars in the ring, with both of them giving pretty straightforward renditions of their chosen pieces.
Shakira: Coach Shakira wants to disappear right now.
Adam: You want to disappear-a?
Adam praises Garrett, while Blake likes Tawyna's song choice but criticizes the yodels. Shakira admits that she asked for more of those and defends them. Usher interrupts to say that he was actually going to compliment the yodels. So basically, Shakira gets almost no help from her fellow coaches. She must agree with Adam on some level, because she selects Garrett to move forward, which blows his mind and understandably so. To go from rejected in the blind auditions before to all the way through to live shows? Way to go, Garrett!
Back to Team Adam. Amy Whitcomb tangles with Caroline Glaser, Adam's steal from Team Blake. Amy's song choice is "House of the Rising Sun," which Pip performed in season two. Adam corrects some minor issues with her before ultimately giving his seal of approval. Caroline, who admits to some nerves given the strength of her new team, picks "Little Talks" by Of Monsters and Men, which we heard last year as a duet version by Terry McDermott and eventual winner Cassadee Pope. Amy's rendition of her song is full of sass and ends in a big way. That's a tough act to follow for Caroline, who nonetheless does her best, the unique sound of her voice definitely coming through in a track that works for her but isn't so dynamic.