'The Voice' Recap: Team Adam and Team Cee Lo's Knockout Rounds
Monday night begins the much talked-about new phase of The Voice - the "knockout rounds" - but don't blink: they're only one week long, and in those two episodes half the artists on the show will be going home while the other half advance to next week's live shows. Who stays? Who goes? And how can all that fit into one week?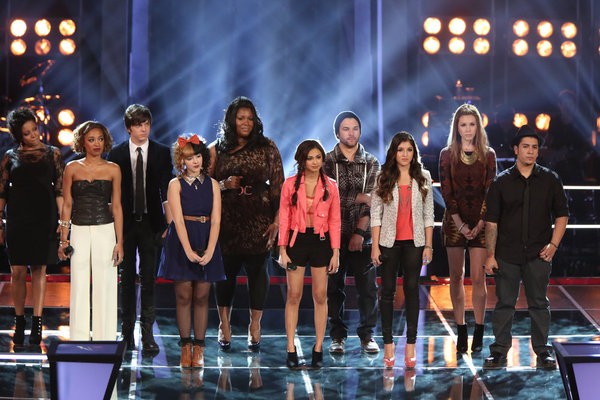 Here's how it works: a coach's entire team is brought back into the battle ring, at which point they choose two artists to match together, just like a battle. There are two major differences: now the artists perform individually, and they get to choose their song. After hearing both artists, their coach selects one to advance to live shows (which Carson Daly is now calling "playoffs") and the other leaves the competition. There are no steals in the knockout rounds.
In part one, it's Teams Adam and Cee Lo that find out their fates, with Team Adam the first squad to be pared down, while the non-performing members watch their teammates from backstage.
Adam starts by pairing Joselyn Rivera against Kayla Nevarez "because they're both young pop singers." Joselyn, who Adam stole from Christina, picks Beyonce's "Love on Top" and Kayla goes with V.V. Brown's "Shark In The Water." After just snippets of rehearsal footage and very little introduction from Carson, it's time for the ladies to sing, and both of them do well with their respective songs. There's not much difference between them, either in sound or in performance, which makes Adam's decision that much more difficult.
Thankfully, he has help from his fellow coaches. Blake thinks Kayla may have played things a little safer, and goes with Joselyn. Christina remarks that she's happy to see Joselyn still in the competition, and compliments her. Cee Lo also sides with Joselyn for her grace and confidence. With that, it's time for Adam to make up his mind, and he admires Joselyn's ambitious song choice as well as Kayla's poise. After much fretting, he selects Joselyn - and apologizes to an emotional Kayla. "It broke my heart to do that," he reflects to camera afterward.
Adam next matches Joe Kirkland with Bryan Keith because "they both have very distinct rock 'n' roll voices." Joe picks Taylor Swift's "Mean" in an attempt to show his versatility, while Bryan selects a song by another Bryan - Bryan Adams' "Everything I Do (I Do It For You)." Joe takes Adam's note to inject more attitude into his rendition and runs with it, getting the audience up on their feet. On the complete other end of the spectrum, Bryan has the female members of said audience swooning as he injects a new energy into a vastly overplayed song.
Blake is pleasantly surprised that Joe took on a Taylor Swift song, while Christina likes both artists for different reasons, and Cee Lo admires Bryan's "working-class hero type of quality." After hearing from everyone else, Adam gives Bryan the pass into the next round, based on his ability to connect with an audience.
Adam's third pairing is Amanda Brown against Michelle Brooks-Thompson, because he wants to see "who has more range as an artist." Amanda's song choice is "Paris (Ooh La La)" by Grace Potter and the Nocturnals, which we heard twice last season (courtesy of Brian Fuente and Ashley de la Rosa), and Michelle picks Jennifer Hudson's "Spotlight." Amanda's in full diva mode once she starts singing, while Michelle has much more of a classic, soulful feel to her performance, not unlike Kim Yarbrough from Season 2, and hits a note that leaves Christina shaking her head in surprise.
Blake says "Michelle just kicked the door in on this thing." Christina compliments Amanda's voice control. Cee Lo believes Amanda has "infinite possibility" but calls Michelle the winner. Adam wonders aloud who he could be a better coach for, and apparently that's Amanda, because he selects her to more forward. He then reflects that clearly he made the right steals, because both the artists he swiped - Joselyn and Amanda - are in his final five.
The fourth matchup is between Loren Allred and Nicole Nelson. Loren wants "You Know I'm No Good" by Amy Winehouse, which Pip and Nathan Parrett killed in last season's battles; Nicole goes for Alicia Keys' "If I Ain't Got You," which not only did we hear in Season 2 (Jesse Campbell and Anthony Evans), but Adam himself has performed (it's a bonus track on the deluxe edition of Maroon 5's 2010 album Hands All Over). Loren gives a good display of what she'd bring to the live shows, but Nicole has a certain confidence in her sound that's also impressive.
Feedback time: Blake informs us that Loren "just became what we're supposed to be looking for" and sides with her, while Christina wonders where Loren's been, and Cee Lo calls Nicole's voice "alive and it's vibrant." Adam realizes the battle was closer than he expected, and broods for a moment before he chooses Loren. His decision shocks everyone, including Adam himself. "I was pretty sure I was going to choose Nicole," he explains. "Loren came out here and immediately took command...I've never seen that happen before."
Team Adam's final knockout pairing then is Melanie Martinez against Sam James. Melanie wants La Roux's "Bulletproof" while Sam sings a favorite of mine, Marc Cohn's "Walking In Memphis" - except he's got a hard time pronouncing the city in the title. Adam says that it sounds like "a very strange disease" when Sam says it. Melanie's rendition is just as unique as all her previous performances, while Sam gets over that pronunciation flub and delivers a gritty version that would make Marc Cohn proud. He does justice to the song, but it's a song that the Voice audience doesn't quite seem to know.
Blake tells Adam that he'd pick Sam, Christina says that her personal preference goes to Melanie, and Cee Lo doesn't get to give feedback on this one. Adam has picked up on Melanie's nerves and wants  Sam to get out of his comfort zone. Sam won't have a chance to, though, because Melanie is the winner. "Melanie has this really unique voice," Adam says, explaining why he chose her. It's worth noting that Adam's team is female-heavy this season, after his finalists from the first two cycles were both vastly talented guys (Javier Colon and Tony Lucca).