'The Voice' Recap: Season 6 Premiere Blind Auditions, Part 1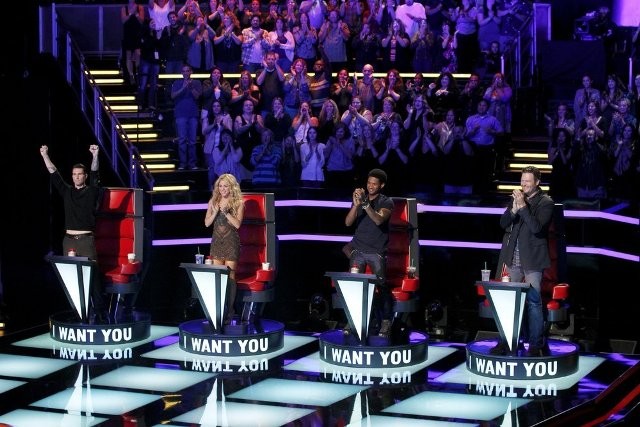 And we're back! After a quick three-month break, The Voice is looking for its sixth champion, beginning with a fresh round of blind auditions in front of Adam, Shakira, Usher and Blake. Here's what happened on premiere night.
Of course, every season has to start with a coach performance, and we have to say Blake and Shakira make an even better pair than Blake and Christina did. They sing Shakira's "Whenever, Wherever" and Blake's "Boys Round Here" and improve both songs. Then Usher starts the whole group off on Maroon 5's "Love Somebody." That segues into Adam performing "Without You," which he needs to record immediately. This needs to have happened yesterday. And we close with pyrotechnics, because this show loves those.
Batting leadoff this season is19-year-old YouTube star from New Jersey, Christina Grimmie. You know she's going to get button pushes, because her audition was leaked awhile ago. Christina sings Miley Cyrus's "Wrecking Ball" and immediately gets the attention of Shakira and Usher, followed closely by Adam. Blake seems like he's going to stay out of the fight, then changes his mind and makes it a four-chair affair. Time to see how the coaches have sharpened their negotiating skills.
"You're more comfortable than I am up there, almost," Adam tells Christina. Shakira says she might have been "hormonal and sleepless" during Season 4.  Christina makes the choice of going with defending champion Adam, who calls himself "king of the four-chair turn." Uh, dude, that's the kind of statement that - while true thus far - is usually promptly followed by someone disproving it.
Carson and his Kia go to pick up T.J. Wilkins in South Central Los Angeles. T.J. comes at us with Elton John's "Bennie and the Jets." Before he even starts performing, Blake has "a feeling," and slams his button after just a sentence. Adam is apparently motivated by this (or his known love of Elton John) to do the same. Usher joins the party, too. Then we get our first zinger of the season.
Adam: Everyone seems to be from where Blake is from, which is apparently everywhere in the country.
He and Usher then enjoy Shakira's pronunciation of "bullets" for a moment before it's decision time. T.J. signs up with Team Usher, which is the absolute right move for him, especially when we find out after that he's looked up to Usher "for a long time." Could he be this season's Trevin Hunte - the soulful R&B artist who also has a moving personal story that endears him to the audience? We'll see.