'The Voice' Recap: Season 6 Playoffs, Night 2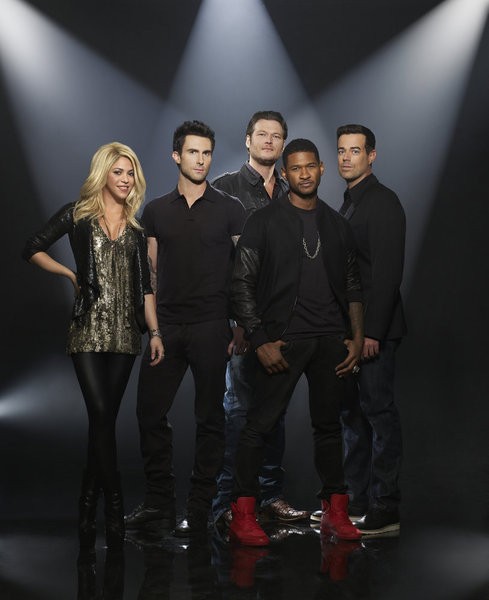 After narrowing down Team Blake last Tuesday, The Voice is putting two more teams on the chopping block Monday. It's Team Shakira and Team Adam who are being narrowed down from five members to three, with their coach having to decide which two artists are going home.
Shakira's squad begins the night, with country singer Kristen Merlin batting leadoff after being montaged for last parts of the season. We're finally getting a good look at what Kristen can do with Carrie Underwood's "Two Black Cadillacs." Her take on the song certainly has enough power behind it, including one crazy note in the middle, and she knows to keep moving around the stage rather than just stand there and belt it out. Watching this, it's even more frustrating that Kristen got montaged earlier, because she's really good.
Adam and Shakira give Kristen a standing ovation; Adam compliments both Kristen and Shakira's coaching, calling the artist "at the top of your game." Blake agrees, saying "That's as flawless as a live performance can be," although he rips the crowd for not having any rhythm (not the first time he's said that). Usher says Kristen is "one of the strongest voices in the competition and consistent." Shakira tells her artist that she's made her so happy - so hopefully that means she'll protect Kristen when it comes to make her decisions at the end of the hour. Even Adam and Blake encourage her to keep Kristen on her roster.
Deja Hall has selected Jordin Sparks' track "Battlefield," but her inexperience is showing just a little bit. Shakira has to explain to Deja what being "in the pocket" means and help her with her pitch. Will her youth work against her when she's stacked up against the older, more experienced artists? Possibly, because her version of the song lacks the intensity of the original, and no matter how much emphatic gesturing she does, it doesn't quite have the same effect as Jordin Sparks - who was just 20 when the song was released - performing it.
Both Blake and Usher talk about Deja growing up, and both Usher and Adam talk about her learning and growing as she goes along. "I think the place you're at now is better than any other place you've been so far," Adam encourages. Shakira praises Deja's performance and her growth. Sounds like she heard something that we didn't.
Third to sing is Tess Boyer, who's been around this competition like a ping-pong ball. She started with Usher, was stolen by Blake in the first round of battles, and was picked up by Shakira in the second cycle. So is she going to hang in there or will she finally strike out? Her rendition of "Human" by Christina Perri will decide that. The performance starts out slow, but soon Tess is holding out considerable notes.
Everyone argues over who's the biggest idiot in their handling (or not) of Tess. Adam does an intentionally bad impression of Blake that Blake quips sounds more like Carson. Seriously though, Usher calls Tess "superhuman" and says she's "reaped the benefits of this entire panel." Well, except for Adam.