'The Voice' Recap: Season 6 Blind Auditions, Part 2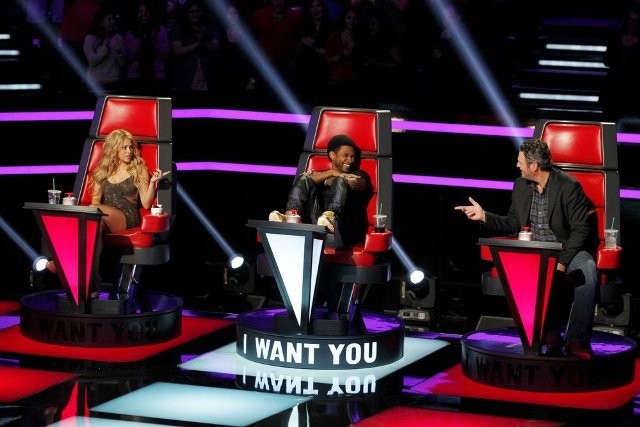 In the first night of Season 6 auditions on The Voice, Team Blake picked up 1 of 12 singers, Team Adam and Team Shakira landed 2 and Team Usher a leading 3. There are still plenty of spots to fill, though, so let's get to it.
We start off with another returning artist, Delvin Choice, who comes armed with Donny Hathaway's "A Song For You." That piece was pretty much killed by Jesse Campbell in Season 2, but Delvin nails it himself, earning three quick button pushes from Adam, Shakira and Blake. Usher waits until almost the last moment, but he's finally persuaded, too. Delvin is understandably floored to go from a failed audition to a four-chair turnaround.
Blake: I'm blown away - and you've got to tell me how you fix your hair.
After Adam does a very, very bad Spanish accent worthy of a horrible telenovela, the battle is on, complete with a couple of well-meaning jabs at each other.
Adam: Blake's never known any song that anyone sings on the show.
Adam wins another four-chair turn when Delvin selects him as his coach, and speculates that it would be cool if a second chance artist won. We'd have to agree with him there.
Next, we visit Utah to meet 16-year-old Madilyn Paige, who first starts talking about her passion for filmmaking before we get to her singing history. That seems a strange way to introduce her, but we digress. She's bringing us "Titanium" by David Guetta featuring Sia, in a much slower arrangement that gives the track a different feel. It's still not quite like Lindsey Pavao's arrangement of said song. But it's enough to attract Usher and Shakira, especially after Madilyn hits a crazy note.
Adam's so excited for the resulting argument that he runs over to Blake's chair so he can hear it better. In the end, it's Usher who scores the victory.
Here comes Noah Lis, who is looking sharp and absolutely scores with his rendition of "Me and Mrs. Jones" in our opinion. He sort of reminds us of a less powerful, more jazz-oriented Chris Mann, and not just because he's wearing a suit. Blake is singing along with Noah almost from the jump. Shakira looks like she's interested, then cringes and pulls her hand back from her button. Just as we think it's too late for Noah, both Adam and Blake swoop in with last-second saves. Thank heaven for that.
Blake: Do you know anybody else in the entertainment industry that gives less of a crap than me?
Adam's pitch is targeting a few things that he can help Noah with, but Noah thinks Blake is "the perfect fit" instead and signs on with him. We're not entirely sure how a country artist is a perfect fit for a crooner - at least Adam covered Frank Sinatra once - but hey. It could be one of those combinations that doesn't make sense on paper and ends up working. Noah is one of our early favorites, contingent on the all-important factor: song choice.