'The Voice' Recap: Season 6 Battle Rounds, Part 3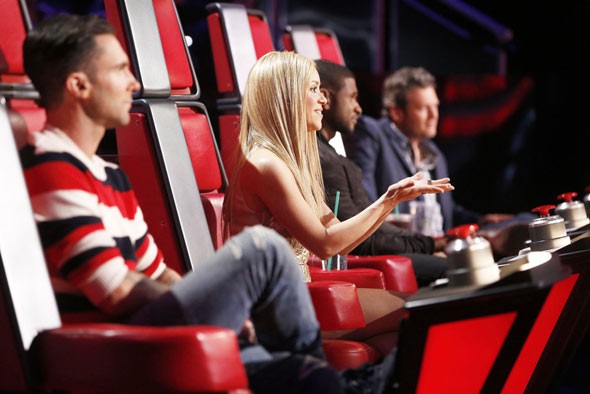 The Voice is back with six more battles, and only a handful of steals remaining. Let's break down the matchups, the winners, and who gets one of those lucky second chances - one from Blake, one from Shakira and two for the very discerning Usher.
1. Team Adam: Austin Ellis (1 chair in blind auditions) vs. Josh Kaufman (4 chairs), "Happy"
On paper, it's a one-sided battle over a song that you've probably heard two dozen times by now. But it's so not that simple. Advisor Aloe Blacc thinks the pairing will help "to show how diverse soul music is." Adam wants to see more vocally from Josh and more performance-wise from Josh. He's looking for both artists to engage the crowd, which to him is a must for any successful singer. (And if you've seen Maroon 5 in concert, you know that's something Adam excels at.) In the ring, Austin more than proves a match for Josh; these two guys should record together immediately. Pharrell and his Arby's hat would be proud.
Blake is feeling the energy of the performance. He calls Austin a "solid singer" but "can't keep up" with Josh's bag of tricks, so he picks Josh. Usher refers to Austin as a "caged beast" with a powerful upper range, even though he also would give the win to Josh. Shakira believes this is "one of the best battles, hands down" and can't decide between the two. Adam doesn't really surprise us when he selects Josh, but there's no doubt that Austin acquitted himself well. Why didn't Usher steal this guy?!?
Winner: Josh Kaufman
2. Team Blake: Alaska & Madi (2 chairs) vs. Audra McLaughlin (4 chairs), "When Will I Be Loved"
Blake has matched these ladies up because "they're all country singers," so it's unsurprising that he gives them a Linda Ronstadt song. "It only takes one of you to mess one of you up," Blake warns the duo, while of course Audra has the problem of matching one voice against two - but it can be done (Remember Justin Rivers knocking out The Morgan Twins? And they were the four-chairs in that battle.) While we resist the urge to say "Clap for Alaska", Audra proves that our worries about her having to compete against a duo were totally unfounded.
Usher says pretty much what we just said, and even as Blake begs for help, gives him none. Shakira declares herself "Switzerland" and also refuses to tender an opinion. Is Adam going to offer any assistance to his BFF? No, he's just going to "whine about the fact that I can't steal whoever he doesn't pick." A nonplussed Blake has to make the decision totally on his own, and he sticks with the chalk, picking Audra. Both he and Adam seem annoyed that Shakira and Usher don't use a steal on the duo; Adam even comes backstage to console Alaska and Madi afterward. Say it with us: Awww.
Winner: Audra McLaughlin