'The Voice' Recap: Season 6 Battle Rounds, Part 2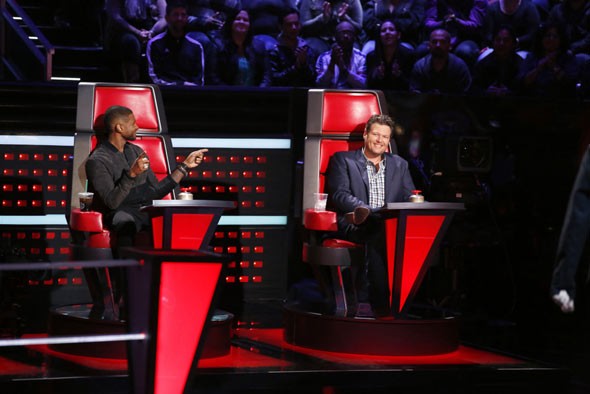 We're now halfway through The Voice's battle rounds, and there were six more head-to-head matchups that went down on Tuesday night. Which also happened to be coach Adam Levine's birthday. And the day that two Team Adam alumni released new music. Here's who won, who lost, and who got one of the five second chances remaining in the competition.
1. Team Shakira: Clarissa Serna (4 chairs in blind auditions) vs. Jeremy Briggs (2 chairs), "Cold As Ice"

The two rockers on Shakira's team are paired together on a Foreigner song. Shakira compliments Jeremy's range, while advisor Miranda Lambert likes Clarissa's grit, but also thinks that she was "holding back" in first rehearsal. They've both got to work on holding out notes and finding their chemistry. "When you don't make it a performance together, you end up both looking bad," Miranda tells us. In the ring, these two seem to have taken those notes, coming together to make an entertaining classic rock duo.
Adam says "the end of it was the best part" and chooses Clarissa as the battle's winner. Blake points out both artists were singing in the same key, and also votes for Clarissa. Usher thinks the song selection was a challenge, and says both artists complemented the record, but sides with Jeremy. Coach Shakira wishes things had been "a little less dramatic," but is ultimately happy with the finished product. Again using the "I can do a lot more moving forward [with this artist]" argument that she invoked on Monday night, she selects Clarissa.
Winner: Clarissa Serna
2. Team Adam: Delvin Choice (4 chairs) vs. Caleb Elder (1 chair), "The Man"
As if battling isn't stressful enough, try having to rehearse an Aloe Blacc song in front of Aloe Blacc. That's what happens to returning artist and four-chair winner Delvin Choice and the final member of Adam's team, Caleb Elder. Adam wisely decides to let Aloe coach his singers on the performance of his song. Aloe not only explains the song's origin and meaning, but he gives specific tips to each artist and also performs part of the song to help them out. Awesome advisor? We think yes. But the second rehearsal falls apart, leading Adam to point-blank say, "That wasn't good." He then makes Delvin and Caleb speak the lyrics as if they were rappers in order to find the rhythm.
This is a fun song to begin with, so that certainly helps, but the love these two guys have for each other comes through in a performance that energizes the crowd. Blake says that obviously the pair were having fun, but says that Caleb had "a lot more problems" and takes Delvin. Usher sees what Adam must have seen in Caleb, and says "it's truly a blessing to have a coach like Adam, because he's going to push you." Shakira calls the performance "fun" and "an amazing time on stage," and picks Delvin. Adam takes a moment to note that Shakira, for whom English is a second language, speaks it better than Blake - before choosing to keep Delvin. It's a shame nobody steals Caleb, because he could probably have continued to grow with more coaching.
Winner: Delvin Choice