'The Voice' Recap: Season 6 Battle Rounds Begin, Part 1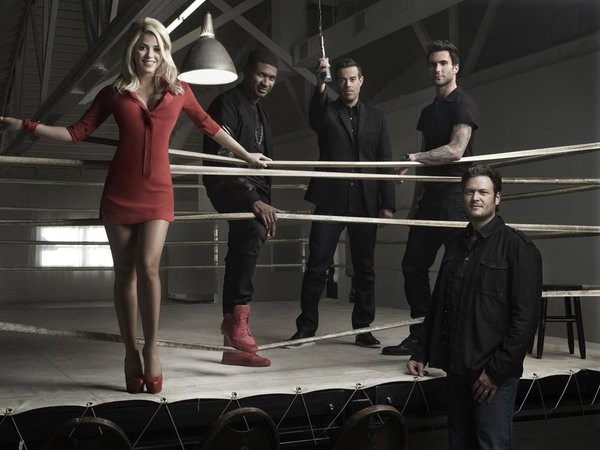 Now that The Voice has picked its Top 48, it's time to see what they're made of. We're set for 24 head-to-head battles, with each coach having two steals to use in this phase of competition, ultimately leaving only eight artists standing on each team. Got that? Good, let's get started.
1. Team Usher: Biff Gore (4 chairs in blind auditions) vs. T.J. Wilkins (3 chairs), "Ain't Too Proud To Beg"
Usher matches two R&B artists on a classic R&B hit. Advisor Jill Scott calls their initial approaches "a complete contrast," unsurprising because there's a 20-year age - and therefore experience - difference between the two artists. Usher uses Jill as the woman that the guys must try to win over, which seems to produce the desperation that he's looking for. In the ring, T.J. and Biff turn their attention toward Shakira, while sounding like they should just get together and form a duo (listen to those moments of harmony!). Both gentlemen have the performance aspect down, leaving this battle down to a matter of vocal preference. Although Biff's karate kicks get distracting at times.
Shakira says she has nothing technically to add, and doesn't pick one artist or the other. Adam calls the energy "infectious" and likewise doesn't choose. Blake doesn't offer Usher any help either, leaving it to the coach, who says his artists did "everything perfect." He ultimately chooses T.J. as the victor "because of the fight that was there. T.J. was relentless, and that's what I want. I want a fighter on my team." Just as Biff is being let go by Carson, Blake swipes him in the first steal of Season 6.
Winner: T.J. Wilkins and Steal: Biff Gore to Team Blake (1 steal remaining for Blake)
2. Team Blake: Jake Worthington (3 chairs) vs. Lexi Luca (1 chair), "It Goes Like This"
We finally get to hear from Lexi Luca, who got montaged out of blind auditions. She's paired up with fellow country singer and returning artist Jake Worthington. Lexi feels like she has "a lot to prove" since she only turned one chair, and calls the first rehearsal "overwhelming," leading Blake and advisors The Band Perry to have to reassure her. Blake initially believes that Jake has the "clear advantage" because he's comfortable, but by second rehearsal, the tables have turned.  In the ring, things start out awkward but gain steam; Lexi has more stage presence but Jake has vocal ability on his side. If you didn't see him and just heard him, you wouldn't believe he's still a teenager.
Usher calls the matchup "pretty incredible" and says he sensed Lexi's nerves, so he declares Jake his pick. Shakira compliments both artists and doesn't explicitly pick one. Adam sides with Jake, calling the pairing of him with Blake a "dangerous combination" that could win the whole competition. After giving positive feedback to both singers, Blake points out that Jake fumbled lyrics at the beginning of the song "and that stuff doesn't slide" with him. That doesn't stop him from selecting Jake, though. And Jake goes to give eliminated Lexi a sympathetic hug after the fact. Awww.
Winner: Jake Worthington