'The Voice' Recap: Season 6 - 2nd Battle Rounds, Part 1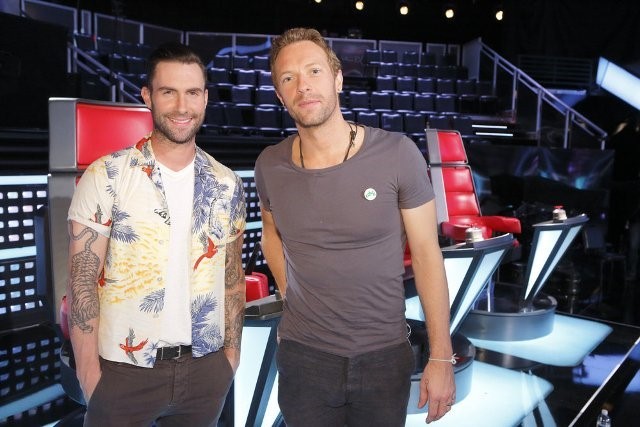 The Voice is giving us a second helping of battles, with a side of Chris Martin (ironically as the Coldplay singer's personal life is making headlines). Are more battles better than the knockout rounds? Does Martin bring anything to the table that previous advisors Aloe Blacc, The Band Perry, Miranda Lambert and Jill Scott didn't? What's it like when four teams have one advisor? So many questions, only two hours to answer them in. Let's get battling.
1. Team Blake: Audra McLaughlin vs. Megan Ruger, "The Climb"
Unlike the first battle rounds, Carson doesn't give us a handy introduction to the pairings, so you get to figure them out for yourself. Blake matches these two ladies because he believes they both occupy the same space on his team, and he only needs one of their type of singer going forward. He hands them a short list of three songs and they must mutually agree on which one to perform, so there goes the artists having full creative control. Audra and Megan settle on "The Climb" by Miley Cyrus, and they're going to have to work to make it better than Justin Rivers' performance of it.
"Does she twerk in that song?" Chris asks when he finds out about the selection. "When she performs it these days, probably," Blake quips. Blake thinks both ladies have performed better than what he hears in their first rehearsal. Chris suggests that they fill the stage space better, and perform outward more.
And that's all the rehearsal time we get; instead, time is filled with footage of the artists meeting with their families, similar to how we saw them confer with their coach before their last round. One thinks we could use more actual competition, and less filler, even if it is nice filler.
Audra and Megan find a nice vocal middle ground, and seem to have taken Chris's note about filling more of the stage, except for at the end a little bit. Usher - who must be trying to one-up Pharrell in hat choices - votes for Audra.  Shakira agrees, saying that she connected more with Audra. Adam calls Audra "one of the best singers on the show" but argues that Megan held her own. Blake offers constructive feedback to both his artists, before keeping Audra.
Winner: Audra McLaughlin
2. Team Usher: Cierra Mickens vs. T.J. Wilkins, "Get Here"
Usher wants to match one of his strongest artists, T.J., aganst Cierra, whom he stole from Shakira last week. Out of his three choices - one of which is Maroon 5's "One More Night" - they decide on "Get Here" by Oleta Adams (although the original artist was, in fact, Brenda Russell in 1988; Adams' cover was in 1990). This is one of the great soul ballads in music history, and proves to be a pretty good choice, though Chris wants them to "work together a little more." He does call the song a duet, though, which it's not; we're going to guess he meant the performance is a duet.
Being longtime Brenda Russell fans who've actually heard her perform this song live, we're biased when it comes to evaluating this particular battle round. We get what Chris means, though, as both Cierra and T.J. seem to be performing more toward their respective sections of the audience than to each other during large parts of the song, which given that this is a love song, is a missed opportunity for them to really move us with the music. They're technically great, but a little more performance would've made them even better.
Shakira calls this battle "perfect." Adam is surprised by how Cierra rose to T.J.'s level. Blake uses the word "perfect" again in reference to Cierra. With nobody actually having chosen a favorite, Usher and his furry hat are on their own here. He sticks with his original artist, though Cierra gets a farewell hug from each of her coaches.
Winner: T.J. Wilkins