'The Voice' Recap: Season 3's Final Battle Rounds (Part 6)
There's one last night of battles on The Voice, and just one steal left, which belongs to Christina Aguilera. This is crunch time...for this phase of the top-rated singing competition, anyway. So let's get right to it, shall we?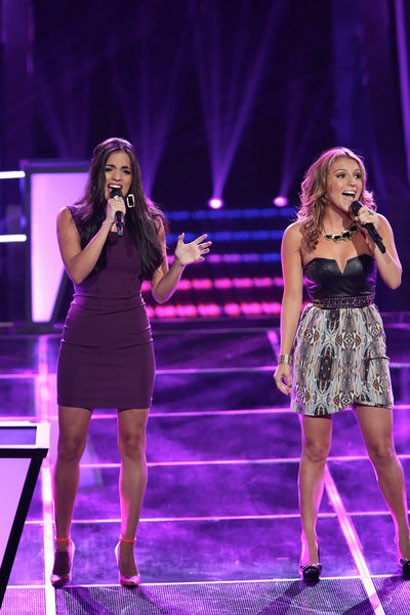 Tuesday night begins with Christina's team, specifically Adriana Louise and Jordan Pruitt, who get handed Katy Perry's "Hot and Cold." Jordan confides that she's surprised to see advisor Billie Joe Armstrong because he's so different from Christina. Billie Joe instantly picks up on Jordan's "professional" side, while Christina thinks Adriana is "holding back" a little, and doesn't want either of them to emulate Katy Perry.
In their final rehearsal, not only are the two singers meshing, but they've also somewhat color-coordinated their outfits. Christina wants them both to be a little more aggressive, and in teaching them, reminds us that she herself still has the lungs to belt insane notes. After rehearsal, she thinks that the duel could go either way.
It's the battle of the experienced pop singer versus the inexperienced pop singer on a huge pop song: this one should be straight down the middle, and it pretty much is. There are no surprises, just good, quality performances. Both ladies clearly have pipes and they've found that aggressiveness that Christina was looking for; they actually sound remarkably similar at points, and they both sing their hearts out. If I didn't know their backstories beforehand, I wouldn't have been able to tell which of these two was the professional.
The coaches weigh in with their feedback: Cee Lo compares the battle to Olympic gymnastics, and picks Adriana. Adam remarks on how comparable the two artists are and selects Jordan. Blake says he's never heard anything like the break in Jordan's voice, is upset that he doesn't have a steal left to use, and says he, too, would pick Jordan. It's decision time for Christina, who crowns Adriana the winner of the battle, and says she's "a force to be reckoned with."
Christina then hurries up on stage to hug an emotional Jordan, says that she wishes they had steals left so someone could save her. It's a sniffle-worthy moment, and it's downright painful to hear Jordan apologize backstage because she has nothing to apologize for.
Team Blake is next to sing, with Kelly Crapa pitted against Michaela Paige, and Blake has given them Joan Jett's "I Hate Myself for Loving You," which he thinks is a good middle ground between Kelly's country and Michaela's rock. Advisor Michael Buble says the two teenagers make him feel old, and calls Michaela "a 60-year-old black woman trapped in the body of a punk girl," which may be the best quote ever uttered in a rehearsal.
Michaela and Kelly get to their final practice session with Blake, who says "Kelly has an answer" for everything Michaela does. His last note is a hilarious one: he quips that while they're performing, they should think about "how much you hate Adam Levine." Oh, snap. (Call it a comeback for the moment when Adam jokingly referred to himself as the best coach ever.)