'The Voice' Recap: Season 3 Live Playoffs, Night 8
The Top 8 are singing for your votes again - must be Monday on The Voice.
But first, if you found yourself missing guest performers, you're in luck: Curtis "50 Cent" Jackson is in the house to perform "My Life," his new single featuring Adam Levine (as well as Eminem, who is not in the house). In case you're not familiar with him, 50 Cent has brought a giant "50" with him. It goes nicely with the fog machine. You can download the new tune here.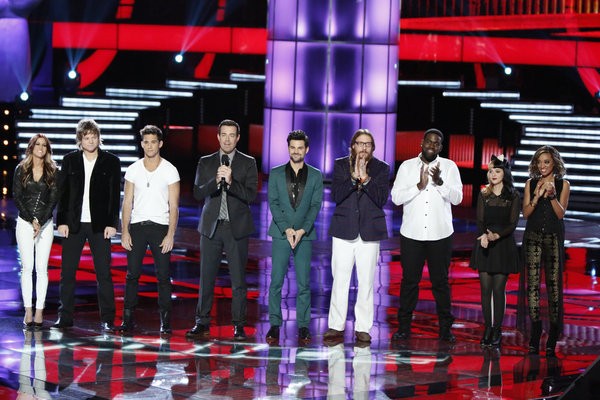 Once the smoke has cleared, it's time for coach chat. Adam admits that he still misses Bryan Keith (so do I, coach!) while Carson points out that Cee Lo is the coach with the most artists left in the competition. "It's just a matter of continuing to just make the right song choices," Cee Lo tells him. Conversely, Christina is down to just Dez Duron. "He's my last man standing," she reflects. "I'm rooting for him all the way." The ladies in the audience cheer. And then Carson goes spoils the surprise by revealing that Terry McDermott will be singing one of Blake's songs tonight. "I made him do my song," Blake quips.
Back to the real action: it's Team Adam's Amanda Brown batting leadoff tonight, with Adele's "Someone Like You." Adam suggests she try "kicking its ass a little bit." That's a wise choice, given that another member of Team Adam, Angel Taylor, did a great straightforward version of the same song just last season. While Angel's take had a certain poignancy to it, Amanda brings back the attitude she imbued "Dream On" with, and the audience loves it. Mission accomplished, Adam.
Blake says he "really enjoyed that" and points out that Adam is usually hard on folks for trying to do Adele songs like Adele, but this time they made an Adele song an Amanda Brown song. Christina calls the performance "really dynamic" and says "you definitely went for something different." She adds, though, that she still doesn't quite understand Amanda as an individual artist. Cee Lo says that he really appreciates Amanda's bravery. Adam chimes in that he's never seen anyone do that song the way Amanda did it. "I think everyone's extra hard on you because we expect so much of you," he tells her.
Team Cee Lo's Cody Belew draws "Somebody To Love" by Queen, which Cee Lo gave him because "I believe the torch can be passed from Freddie Mercury to Cody." That's a ringing endorsement if there ever was one, and it's a little more daunting for Cody because the rock legend is one of his heroes. It's a totally different number than his huge Beyonce performance last week; in fact, he took a page from his teammate Nicholas David's book, because now he has the choir backing him up. Carson wants to know how it felt to stand on the piano.
Adam says that's one of his favorite songs and tells Cody that "there were little things that I noticed" but that overall, "you did a fantastic job." Blake again comments on the "right connection" between Cody and Cee Lo: "It's just the perfect combination, it really is," he says. Christina remarks that "you are definitely a risk-taker through and through" and calls the song "a good vocal challenge" for Cody, suggesting that "we need to hang out." Cee Lo praises Cody's growth and ability to perform well under the pressure of live nationally-broadcast competition.
We then take a break in competition for a group number where the members of Team Blake join forces with the sole member of Team Christina and one-half of Team Adam. Terry, Cassadee, Dez and Melanie unite on All-American Rejects' "Move Along."
Next up is Team Blake's Terry McDermott, who takes a huge step outside of his classic-rock comfort zone by performing Blake's song "Over", which Blake calls "better suited for Terry than it ever was for me." He tells Terry that he wants Terry's version of the song to erase his, and while it doesn't do that simply because Blake has more power to his voice, it's a pretty great rendition that proves Terry is far more than a one-genre pony.
Christina tells Terry that "it was a little unexpected for me this time around but it was still a solid performance." Cee Lo makes strange analogies before saying that Terry reminds him of great rock vocalists and should keep going. Adam quips, "So that's what that song's supposed to sound like!" before complimenting the precision with which Terry hits his notes. That brings the discussion back around to Blake, who tells Terry, "You just performed that song the way I always wish I could...You just proved yourself as the real deal." Will America agree? Here's hoping so.