'The Voice' Recap: Season 3 Blind Auditions, Part 1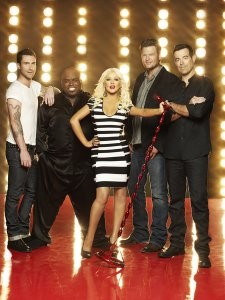 Aside from a little case of deja vu, it feels pretty good to have The Voice back on our airwaves. Season 3 starts with our four superstar coaches taking the stage yet again, this time for a rendition of the Rolling Stones' classic "Start Me Up" - which A) sounds great and B) is a reminder that no other celeb panel on TV has the street cred that these folks do. Although I could do without the confetti. But let's get to the competition, shall we?
The coaches have 16 spots to fill on their teams this time, up again from last season's 12 (though they're going to be going into live shows with one less artist than last year) so they've got some work to do. The first person to audition is Terry McDermott, who's gone from Scotland to New Orleans in pursuit of his musical dream. He performs The Who's classic "Baba O'Riley." Blake yells at Adam to push his button; Adam gets Contemplative Face. Finally, at almost the last minute, both Blake and Adam go in, with Cee Lo following suit. Terry joins Team Blake, which ought to be an intriguing combination. Yet Cee Lo is already talking smack, saying that "I don't think that [Blake] will" do a good job as Terry's coach. Ouch.
Who's next? That's De'Borah, who says she's "not into the gender thing" and really loves color in her wardrobe, so it's a little amusing that when she gets on stage, the camera keeps going back to Cee Lo. Her rendition of Train's "Hey, Soul Sister" gets both Cee Lo's and Christina's attention, and De'Borah joins Team Christina. This is news to Christina, who "really had no idea she was gonna pick me."
Third in line is Gracia Harrison, described by Carson as an "aspiring country artist," which means that now it's time for everyone to automatically look at Blake. Oh, and she yodels. Last time, we had an MC and an opera singer, but this time, we get yodeling. Why not? Gracia's rendition of "I Want to Be a Cowboy's Sweetheart" near-immediately gets Adam's attention, followed by Blake, and then Cee Lo. Adam is determined to get the first word in before Blake, telling Gracia that "It makes no sense for you to be on my team, and that's exactly why you should be." I love my coach's suspect logic. In the end, Gracia picks Team Blake, while apologizing to Adam. Not surprised by this at all, Adam decides he's going to throw a fake temper tantrum before breaking out a pretty darn good Blake impression.
Next we meet Garrett Gardner, who's singing for his late father and bringing us his version of "Have You Ever Seen The Rain." Adam is singing along with him, but nobody pushes their button, making Garrett the first person to go home empty-handed in Season 3. The coaches think he needs more time and experience. He gets choked up on stage once he mentions his departed dad, and who can blame the kid? Garrett gets a hug from Christina and then Adam stops him to provide a few more words of encouragement. You wouldn't see that level of compassion on any other singing competition.