'The Voice' Recap: Season 3 Battle Rounds, Part 4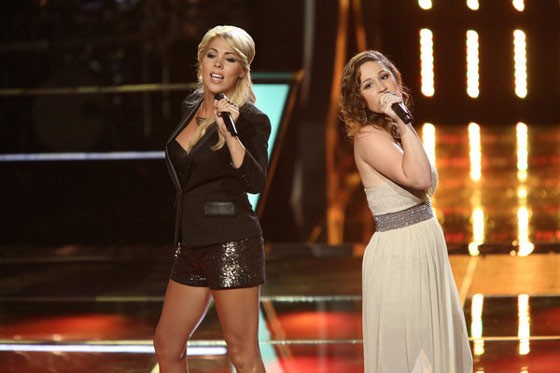 Things are getting thorny in the battle rounds on The Voice, as with only three steals left in play after last night's episode (two for Christina and one for Blake), it's soon to be back to "win or go home" for the artists. Not to mention: are any more battles going to be truncated for time like they were last Tuesday night?
This Tuesday night opens with Team Blake, as Liz Davis is matched with Nicole Johnson on a song that Blake knows well - his wife Miranda Lambert's hit "Baggage Claim." It's amusing to watch Blake quip that he's "met [Miranda] once or twice." Team Blake mentor Michael Buble tells it exactly like it is to the two ladies: "You're fighting for your life."
Having loaded his team with country singers this season, Blake is now looking to narrow it down to the best of them. He tells us that he'll be listening for Liz to be particularly clear with her words. He's also worried that the key of the song is too high for Nicole, who's a little bit pitchy in final rehearsal.
With that, it's into the ring for Liz and Nicole, who actually sound a fair amount alike throughout their performance. Their rendition doesn't quite have the attitude that the original does, but it's entertaining. Christina compliments both singers, while Cee Lo likes Nicole, and Adam points out the similarity between their sounds before siding with Nicole. That brings the conversation back around to Blake, who believes Miranda will be "so proud" of Liz and Nicole's version of her song. He expected Liz to be a little less laid back on stage, and heard Nicole lose her breath a few times, so each artist has something to work on. After a moment of deliberation, based on her experience and the fact that she didn't lose her breath during the performance, Blake picks Liz to advance.
Nicole hopes for a steal from Christina but doesn't get one, and has an emotional moment backstage, only to have Blake leave the stage, come up behind her and give her a consoling hug. That, ladies and gentlemen, is another example of why Blake Shelton is awesome. He is a class act, even if he doesn't know who Florence and the Machine are.
It's Team Adam that's next up to the plate, with Alessandra Guercio against Kayla Nevarez, tackling Katy Perry's "Wide Awake." Kayla wants to know how they ended up together, and Adam explains that he thought rather than strategizing with his pairings, "let's just make these incredible performances," and quips "I'm the best coach ever, huh?"
Advisor Mary J. Blige calls Alessandra "imprisoned by being perfect" and thinks she could be dynamite if she stops thinking so much, while Adam refers to Kayla as "more natural" as opposed to Alessandra being more educated. The girls get some notes from Adam in their last rehearsal before it's time for them to battle.