'The Voice' Recap: Season 3 Battle Rounds, Part 3
Our second week of battle rounds on The Voice begins with Team Blake: it's Julio Cesar Castillo against Terisa Griffin, performing Gloria Estefan's "Conga." Julio and Terisa meet with Blake, his advisor Michael Buble and Voice bandleader Paul Mirkovich, and both have a little issue with the fast pacing of the song, which is apparently a common issue. "No one in the history of the world ever really knew the words," Michael quips.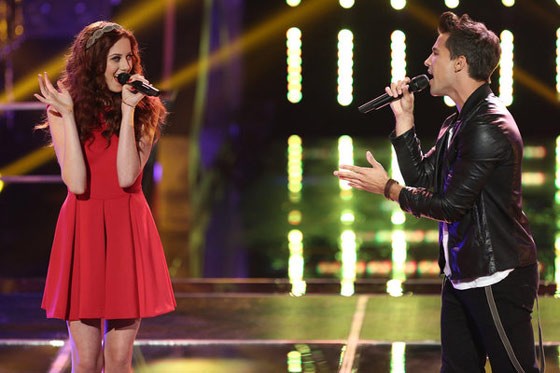 Terisa has some "concerns" about the pairing, according to Carson Daly's voice-over, and she tells Michael that she thinks Blake paired them together "to get rid of me."  This surprises Blake, who points out that he had to beg her to pick him as a coach, and he tells us that she ought to be focusing on something other than the 'why' of it.
By second rehearsal, both Julio and Blake note that Julio is intimidated by Terisa - but once the battle is on, you can't see that or their previous timing issues. Whatever question marks there were about the pairing or the song choices are erased after an energetic performance. Christina says she's "kinda speechless" afterward, while Cee Lo compliments Terisa, and Adam is likewise a little tongue-tied. "Blake, you've really outdone yourself on this one," he says, adding that "It was odd and it worked." He adds that he'd choose Julio because he'd want to have something "completely different."
That means it's decision time for Blake, who cuts Carson off when he tries to deliver the "who is the winner of this battle?" line, and still has a hard time picking a winner. In order to make a decision, he thinks back to the rehearsal period, saying that since Julio "probably put the most work in," he's going to select Julio.
Here it's important to keep score of the number of "steals" still available: Adam, Blake and Cee Lo each have one, while Christina still has both of hers - and we're not even halfway through the battle phase of competition, so the coaches must be very careful who they hit those buttons for.
Blake and the audience beg the other three coaches to step in, and Cee Lo uses his final steal to save an overjoyed Terisa. Blake's convinced that Terisa will shove him not picking her in his face later on.
The next battle pits Team Christina's comeback kid Dez Duron against Paulina on Bruno Mars' "Just The Way You Are." Dez and Paulina meet with Christina and Billie Joe Armstrong to rehearse. Dez loves the song but says he'd never choose it for himself because of how high it is, and Christina cautions Paulina against ad-libbing too much. Both singers are told not to overthink it.
Rehearsal day two sounds pretty fantastic, although Christina cautions Paulina about her unique pronunciation, advising her to "just sing the song...so they don't think it's a lyric flub or a mistake." She also wonders if Dez's nerves will get the better of him, but that's not the first time we've heard that and it won't be the last.
With that, it's time for battle, and even though they're competing against each other, you can see the love between Dez and Paulina. If their harmonies are any indication, they should sing together more often. They're not perfect, but they could be. Meanwhile, the female members of the audience fall all over Dez, again.
Cee Lo calls Dez "the total package" and picks him, while Adam calls them both "a little inconsistent" but also selects Dez, and Blake makes it a clean sweep, citing Dez's additional experience. Christina compliments both singers, but ultimately awards the win to Dez for his "consistency." Perhaps Adam heard something she didn't? Paulina goes home, while Dez is determined to bring the title home for Team Christina in Season 3.